Good news, side-scrolling game fans, you can finally play your favorite fight game in true arcade style, regardless of your preferred platform – thanks to Singapore-based Re Arcade's Playcade, a purpose designed cabinet kit that allows you to turn your old PC, laptop, consoles such as Playstation and Xbox, into an arcade cabinet with essential arcade accessories including buttons, joysticks and even light up faux coin slots for that authentic touch. And the best part is, it won't eat a whole of space, as it goes right onto your table top. The gratification here is, of course, the joy of playing a game of Metal Slug or the classic Street Fighter with authentic joystick and buttons.
Playcade comes as a kit and in the full cabinet kit, it comes with most of the stuff you need to put together the retro, gaming rig and it includes the cabinet itself, along with 12 30mm solid color Sanwa pushbuttons, 2 24mm solid color Sanwa pushbuttons, a pair of Sanwa JLF joysticks with matt color ball tops, two classic dimpled top pushbuttons with player legend (for selecting one- or two-player), illuminated coin button with "insert coin" label, 2-player arcade controller with daisy chain ground and input cables, 2 fluorescent lamps to light up the marquee, speakers and amplifier set with volume control knob, and edge banding tape finish for side panels.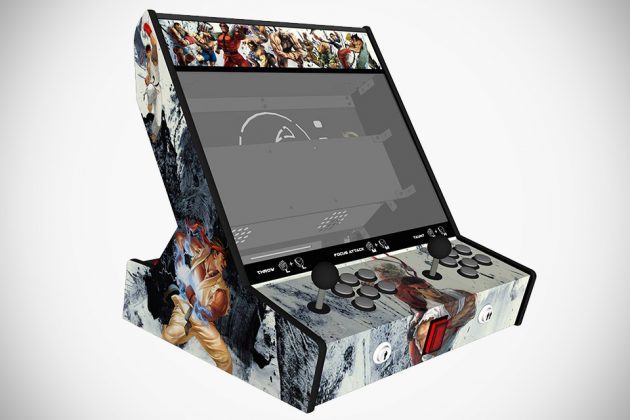 If you are more adventurous, there's a cabinet-only version that does without the buttons and stuff. Whichever you choose, Playcade will come flatpack, just like Ikea furniture, which means, a little skill hands will be required to put them together. 45 minutes build time is what you are looking at, according to its creator, and knowledge of soldering will be a plus too. Prices start at 695 Singapore dollars (about US$507) for the full cabinet kit and $448 and up (around US$327) for the empty cabinet kit. It is worthy to note that consoles, pc, or laptop is not included, neither is the 19-inch display that it is designed to accommodate.
Images courtesy of Re Arcade.