with the shift of attention to portable and wireless speakers, the focus on desktop speakers is fast diminishing, but lucky for those who still prefer the good'ol bookshelf speakers, there are companies like Polk Audio who still believe in making them and updating them to suit modern needs. speaking of Polk Audio and bookshelf speakers, the four decades old audio equipment maker has introduced a what could be a darling of computer companion, the Hampden Bookshelf Loudspeakers. clad in a retro-meet-modern cabinet with an adequate amount of retro flair, the Hampden features modern technologies like Bluetooth technology (with aptX, no less) for wireless audio streaming, built-in digital-to-analog converter that bypasses the computer's digital-to-analog converter, and DSP to boot. well, that's of course, if you hooked up the speakers via USB. though it also has a 3.5mm audio jack as a lesser option, but we are guessing if you buy Polk Audio, you would want to enjoy awesome sound and so, 3.5mm connection seems like a last resort.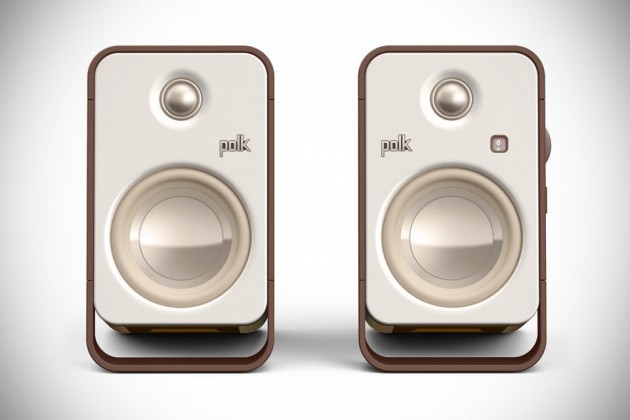 each speaker packs a 4.5-inch polypropylene woofer and a 1-inch soft-dome silk/polymer tweeter with each driver assigned with its own dedicated amplifier that promised to deliver exceptional natural sound and clarity across the frequency range. back to the design department, the curved teak wood veneer and dark brown frame lends the speaker an unmistakable retro look, which combines with the white speaker face to result in a mid-century appearance. though referred to as bookshelf speakers, the brown frame that doubles as a stand to prop up the speakers that angles roughly to the direction of the user's face suggests that this pair of beauties is more of a computer speakers, or as Polk Audio describes as "a near-field desktop audio solution", though they are definitely well capable of serving as an extension of a larger home theater system. i guess, it could even be the main event for your home entertainment system for tiny spaces.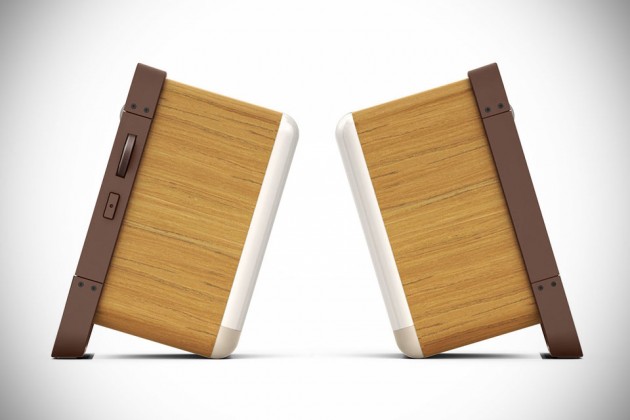 additionally, a DJ Stream app is available to allow wireless audio streaming from multiple, Bluetooth-enabled sources. the app facilities up to four people to connect to the Hampden to take turn playing DJ and supports playlist from music libraries of their devices. Hampden is part of Polk Audio Heritage series, which also includes the the Woodbourne wireless speaker, Nue Era in-ear headphones and Buckle and Hinge audio cans. the Polk Audio Hampden Bookshelf Loudspeaker is audiophile-grade stuff, so they are not cheap. expect it to set you back at $399.95 a pair. available now from Polk Audio website and select retailers.