ASUS has come a long way with its gaming arm, the Republic of Gamers (ROG) and not surprisingly, it has taken the opportunity at the Computex 2014 to unveil a barrage of drool-worthy gaming gears, including a small form factor gaming desktop (G20), a console PC (GR8), a gaming laptop (GX500), gaming motherboards (Crossblade Ranger and Maximus VII Impact and Formula), high-performance graphics card (ARES III), mouse (GLADIUS) and keyboard (GK2000), that are designed to coax you into dropping some serious dough for them. of course, pricing for these products are yet to be confirmed, but still, it is an exciting peek into what the Taiwanese computer maker has to offer for the rest of 2014. keep going for more details.
ASUS ROG G20 Gaming Desktop
designed as a space-saving gaming rig, the small form factor ROG G20 is the gaming desktop to look out for if performance and space are the utmost priority. packed inside this uber sleek and futuristic 12.5-liter case is an Intel Core i7 processor and a NVIDIA GeForce GTX 780 graphics card that will have both core and graphics performance covered, while only sucking in 20W of power, which ASUS claims is an energy savings of 50 percent over the industry average.
the sleekness is a result of hidden airflow tunnel that takes advantage of natural convention to dissipate the heat generated by this beast. with this heat management system in place, the G20 has a near-silent operation, clocking in a noise level of just 25dB when in idle state. needless to say, the case is a geek's fashion statement, but if that's not enough, it has some fancy, customizable light effects with up to eight million colors across three different zones to 'pimp' out your rig to your heart's content.
ASUS ROG GR8 Console Gaming PC
as the product name implies, the ROG GR8 wants PC gaming to be your console gaming of choice. like the ROG G20, ASUS spares no effort in making it look beautiful, while maintaining a slimline form factor that will be as at home in the living as it is in the bedroom or study. under the hood, it has an Intel Core i7 processor, along with NVIDIA GeForce GTX 750Ti graphics, that would see to the most intense gaming sessions and it could be very well be a convenient media center for the rest of your entertainment needs too.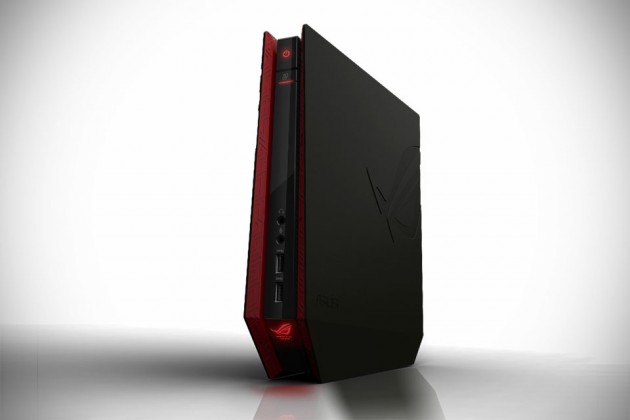 some key features include SupremeFX audio, support for 4K/UHD graphics, no-lag Gigabit Ethernet networking, ease of storage and memory upgrades, built-in Miracast receiver and most importantly, it is fully compatible with SteamOS and the Steam Controller (at its core, it is still running on Windows 8.1, btw). however, if Steam is what you live and breath, then you might want to hold out a little longer for a SteamOS-powered model which will be launched at a later date.
ASUS ROG GX500 Gaming Laptop
at just 19mm, the ROG GX500 is staking the claim as the thinnest 15.6-inch gaming laptop. this 4.85 lbs (2.2 kg) on-the-go gaming rig is powered by the latest Intel Core i7 processor, complemented by NVIDIA GeForce GTX 860M graphics and an eye-watering 4K/UHD display boasting 3,840 x 2,160 resolution that would have your need for extreme crisp and sharp graphics covered. kind of an overkill but then again, it is better to have more than less, don't you think? the display is driven by VisualMaster technology for a wide color gamut of 100% NTSC. the GX500 also touts an exceptionally efficient and effective cooling – thanks the adoption of an intelligent dual-fan cooling system.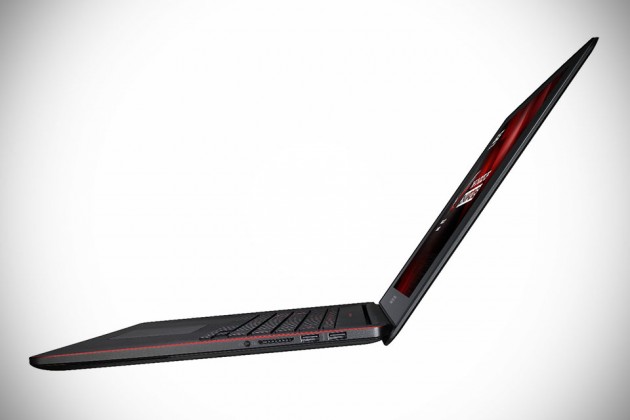 ASUS ROG Gladius Gaming Mouse
touting advanced ergonomics, precision control and flexible customization, the ROG Radius is designed with right-handed gamers in mind. key features include smooth-touch materials with Mayan-patterned rubber for cool and secure grip, fingertip DPI switch, all-programmable buttons (inclusive of two side-mounted switches), a 6,400dpi optical sensor that can track up to 200 inches per second and 50G acceleration, a detachable cable design (for storage and transportation), and "an exclusive socket design that lets users slot in new or favorite switches to set their ideal click resistance."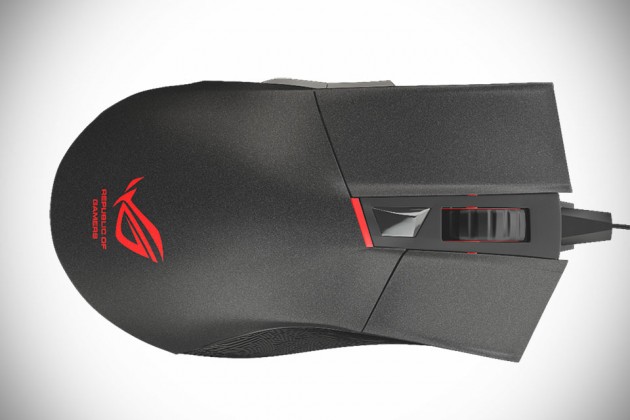 ASUS ROG GK2000 Gaming Keyboard
for layman, a keyboard is a keyboard. not so much of a big concern for word processing or graphics design but for gamers, it could mean a matter of virtual life and death and this is what ROG GK2000 sets out to do: give gamers the edge over the competition. it is a mechanical keyboard for sure, but not just any mechanical keyboard; it boasts mechanical Cherry MX Red switches that offers tactile and responsive input, while anti-ghosting technology makes sure that every key stroke counts. the GK2000 is offers customizable keys and allows multiple actions for each key, which means complex sequences can be activated at a touch of a key. finally, premium metal accents and ROG-red backlight with five eye-catching effects rounds up the package.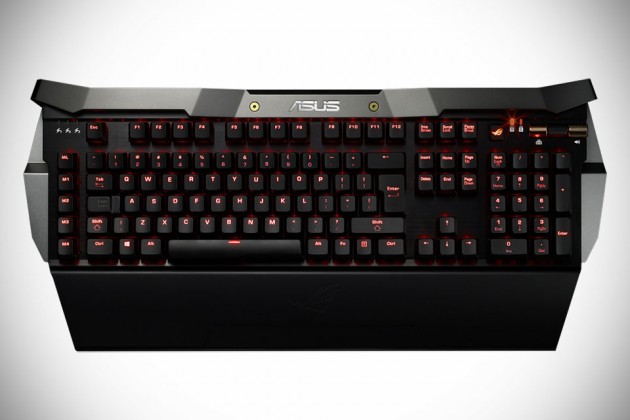 ASUS ROG Maximus VII Formula and Impact Gaming Motherboards
ASUS unwrapped three gaming-orientated motherboards, two of which are Intel-based and one AMD-specific model. the ROG Maximus VII Formula and Maximum VII Impact are Intel-friendly gaming motherboards which are based on ROG's flagship Z97 ATX and mini-ITX gaming board. Formula touts an all-new CrossChill Copper setup for superb heat removable, while liquid-cooled critical MOSFET keeps the air's temperature down.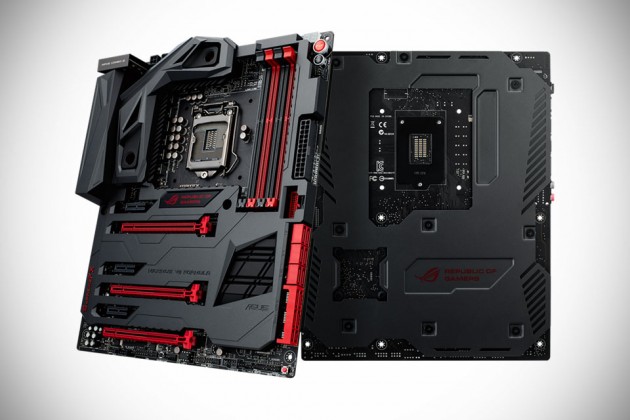 key highlights include SupremeFX Formula 2014 technology for audio reproduction that is said to be on par with dedicated sound card, EMI isolation, premium components, Sonic SenseAmp technology that automatically detects headphone impedance and adjusts accordingly, plus the ability to drive up to 600ohm headphones, and it is pre-fitted with a compact connectivity module, the mPCIe Combo III + 802.11ac/Bluetooth 4.0, offering the latest wireless technologies, as well as mini PCI Express and M.1 slots.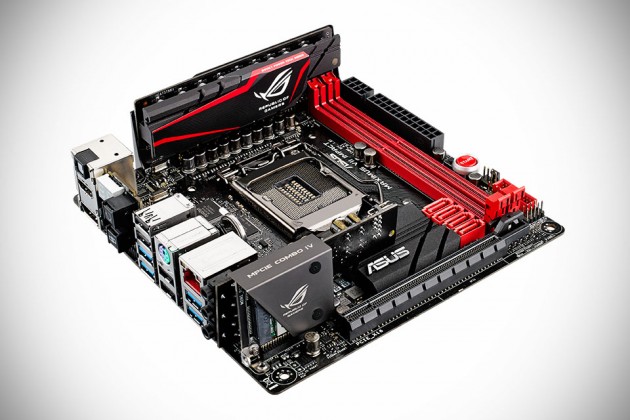 ASUS ROG Crossblade Ranger Gaming Motherboard
AMD fans will also have something to drool over and that's the ROG Crossblade Ranger, which is basically an AMD-specific motherboard with features found on the Maximus VII and as such you can expect the same brilliant audio quality, ultra-fast Intel Gigabit Ethernet, plus GameFirst III network-optimization software. of course, FM2+ motherboard is not new to ASUS, but the Crossblade would be ASUS first FM2+ gaming motherboard.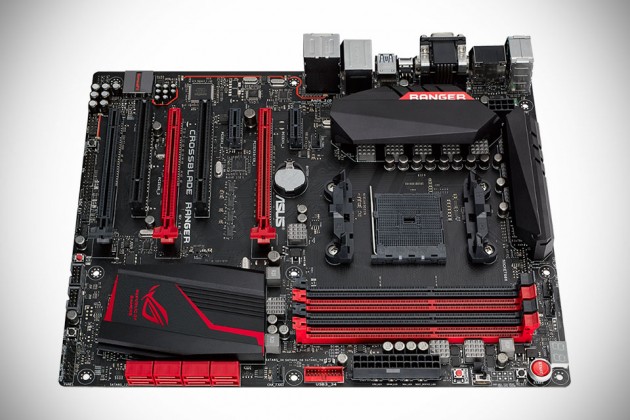 ASUS ROG Ares III Water-cooled Gaming Graphics Card
collectible is hardly a term we would use on PC hardware, but the ROG Ares III is being touted by ASUS as a collectible graphics card in which only 500 units will be produced and each individually numbered. anywho, claiming as the world's fastest gaming graphics card, the Ares III is powered by hand-picked dual Radeon Hawaii XT GPUs and is water-cooled to deliver 25% cooler performance over the reference R9 295X and has 8GB of GDDR5 memory to its name. craftsmanship seems like the name of the game, as ASUS stressed on details such as a custom-designed EK water block that boast hand-carved details. seriously. a collectible graphics card? well, this has to be the first. no?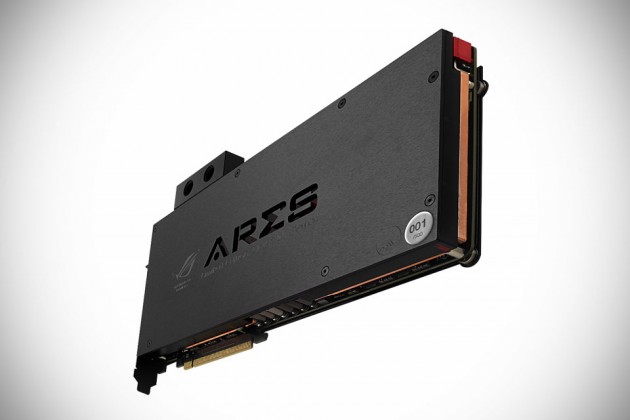 ASUS ROG Swift PG278Q Gaming Monitor
in addition to the 'regular' 4K/UHD monitor announced earlier, ASUS also has one 'beyond 2K' resolution monitor under the ROG brand name. the ROG Swift PG278Q Gaming Monitor, as it is called, is a 27-inch item that claims to be the first and fastest in the world to support NVIDIA G-SYNC technology for "stunning smoothness and crisp 2,5560 x 1,440 pixels resolution." the technology allows the monitor to synchronize with the GPU's render rate to result in stunning smoothness and ultra fast response.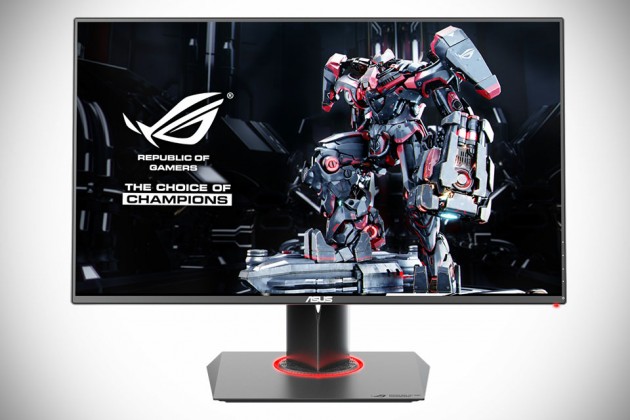 it offers up to 144Hz of refresh rate, though it can be adjust according to your needs and preferences with a dedicated Turbo key, eliminating the need for on-screen display settings that seriously, at this day and age, should be considered quite passe. expect the ROG Swift PG278Q Gaming Monitor to be available next month, but pricing is yet to be confirmed.
well, guess that's about it. it took us a while to digest what ASUS ROG has to offer, but as consumers, the more options there are, the better it is for us.