the annual Computex has always been ASUS playground to show off new digital products and this year's Computex is no different. the number of products the Taiwanese computer products maker have unveiled at this year's Computex could easily make anyone lightheaded and for uber geeks, grinning with joy. it has taken the wraps off no less than fourteen products, including seven Android tablets, some lust-worthy laptops, desktop PCs and peripherals, covering both professional and consumer needs. keep going for more details of the individual products
Android Tablets
line up: ASUS MeMO Pad 7, ASUS MeMO Pad 8, Fonepad 7, Fonepad 8 and Transformer Pad
ASUS MeMO Pad Series
set to be available mid-June, the ASUS MeMO Pad comprises of three models, a 7-inch and two 8-inch models. touted as affordable slate, the ASUS MeMO Pad 7 and 8 (ME176C and ME181C) are powered by 64-bit Intel Atom Z3745 quad-core processor with clock speed up to 1.86GHz and boast HD 1,280 x 800 IPS displays. key features include Miracast support, CSR aptX audio coding for wireless CD-quality audio streaming, a 5MP rear shooter and a 2MP front-facing camera.
another 8-inch slate is the ME581CL, which sits at the top of the food chain with LTE radios, a faster 64-bit Intel Atom Z3580 2.3GHz quad-core processor, along with wireless ac and NFC. the upmarket 8-inch also features a Full HD IPS display, bolstered by ASUS Splendid and TrueVivid color enhancement technologies and is protected by Corning Gorilla Glass 3. aesthetically, it also has obvious premium touches, including a multi-layer coating and a construction that employs Non-Conductive Vacuum Metallization technology. the ME581CL also stake its claim as the world's lightest 8-inch LTE tablet, tipping the scale at a scant 299g (and it is just 7.45mm thin).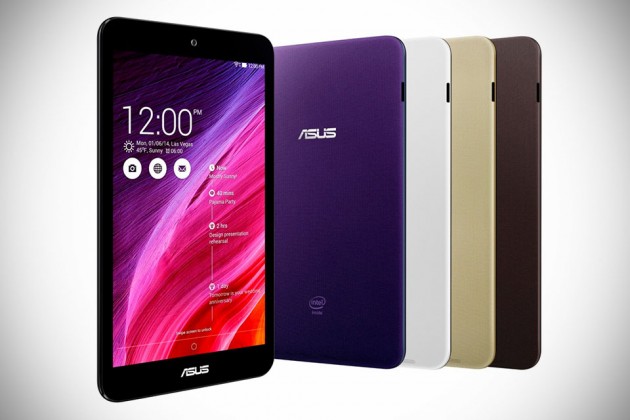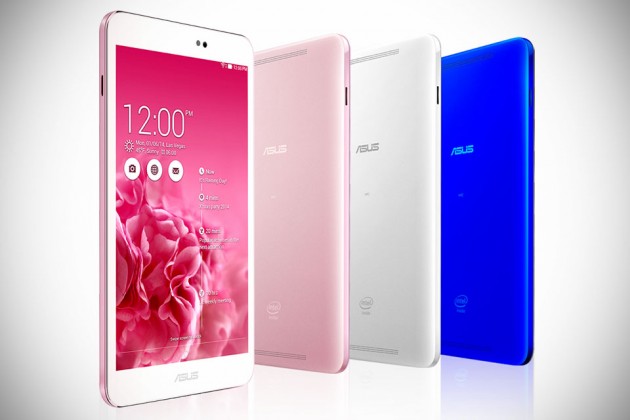 ASUS Fonepad Series
there are two model under the ASUS Fonepad Series, a 7 and 8-inch model (FE375CG and FE380CG). powering the new Fonepad series is a 64-bit Intel Atom Z3560 quad-core processor, clocking in at 1.8GHz. key highlights include 3G phone functionality (hence, the name Fonepad), an alluring narrow bezel design, HD IPS display (1,280 x 800 resolution), ASUS SonicMaster audio with dual front-facing speakers, 5-megapixel rear-facing and 2-megapixel front-facing cameras, as well as dual SIM card support. the 8-inch model also boast a 72.2 percent screen-to-body ratio and a width of just 12cm.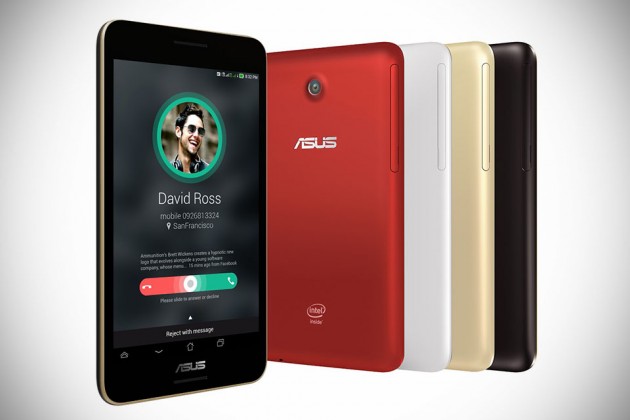 ASUS Transformer Pad Series
the new Transformer Pad will be available in two models, the TF103C and TF303CL, and are powered by 64-bit Intel Atom Z3745 quad-core processor with up to 1.86GHz clock speed. part of the highlight of the Transformer, as the name implies, is the ability to transform from a slate mode to a laptop model. the new keyboard dock has ergonomic chiclet keys with 1.9mm of key travel and features one-touch function keys for common tasks such as Delete or Screen Grab.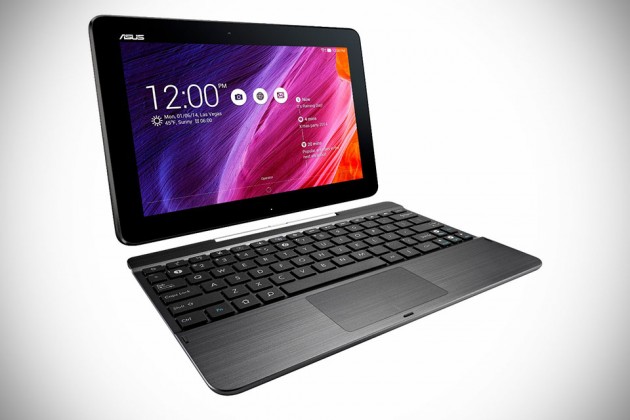 the models are also expected to be equipped with wireless n, and GPS and GLONASS. the TF103C is fitted with a HD 1,280 x 800 IPS display with 170-degree wide viewing angles, while the TF303CL comes with a Full HD IPS display with 178-degree wide viewing angles and ASUS Splendid color enhancement technology. the TF303CL also sports premium features like dual front speakers with SonicMaster audio and MaxxAudio software, LTE Cat 4 connectivity, HDMI output and Miracast support.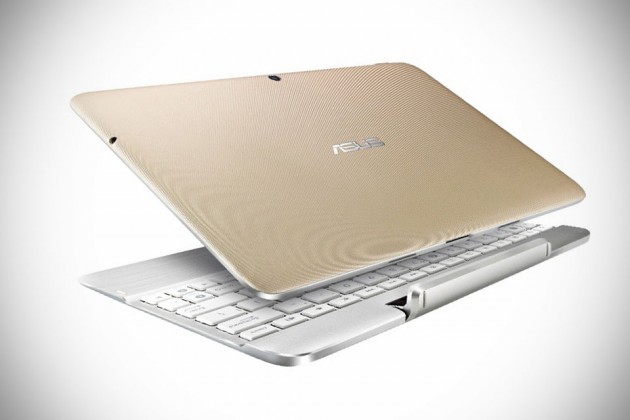 Laptops
lineup: ASUS Transformer Book V, ASUS Transformer Book T300 Chi, ASUS Zenbook NX500, ASUS Transformer Book Flip
ASUS Transformer Book Flip
powered by Intel Core up to i7 processors and up to NVIDIA GeForce GT840M, the new Transformer Book Flip will be available in 13.3-inch, 14-inch and 15.6-inch variants. this Windows 8.1 laptop features a unique hinge design that enables the display to be set at virtually any angle ranging from zero to 360 degrees. the device has a Full HD touch display and a beautiful, compact aluminum chassis with hairline-textured finish. there is a seamless one-piece ergonomic chiclet keyboard and generously sized multi-touch touchpad that also supports smart gestures.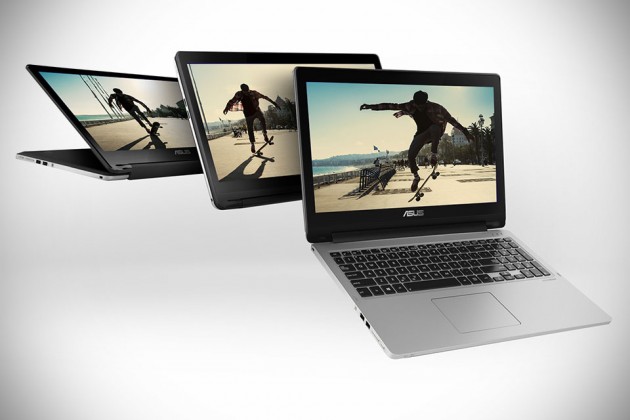 the device also touts instant on, allowing the device to wake up from sleep in mere 2 seconds and it is capable of retaining data when in sleep mode for up to 14 days. it has a lithium polymer battery pack and when it drops below 5%, the laptop will automatically back up files and data to prevent permanent loss of data. the ASUS Transformer Book Flip is expected to be available globally starting from end of June.
ASUS Transformer Book V
billed as the world's first five-mode, three-in-one converged laptop that operates on both Windows and Android, the ASUS Transformer Book V is also a tablet and a smartphone. ASUS has quite an ambition with the Book V where it tries to cover all ground with one device. it definitely sounds like an idea that's completely out of this world, but that's not unlike ASUS who is among the first to put calls into a tablet and a smartphone into a tablet. the HD IPS display can be separated from the keyboard to become a tablet and within this 'tablet' is also a 5-inch smartphone (think Padfone).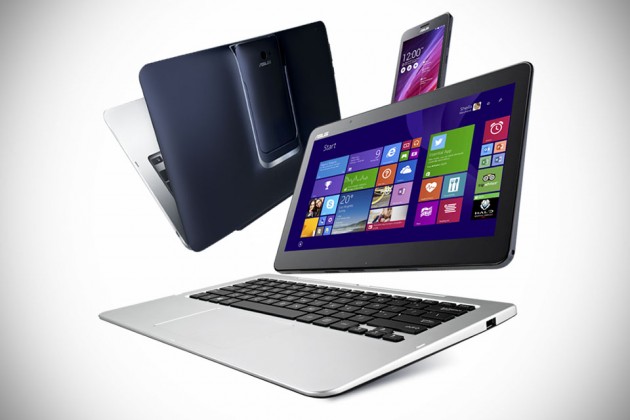 it has a full QWERTY keyboard, complete with touchpad, and runs on both Windows 8.1 and Android 4.4 KitKat. the OS is switchable via a dedicated hardware button. under the hood, it has an Intel Core processor and offers up to 1TB of storage as a laptop and 128GB in slate form. in tablet form, it is runs on Windows 8.1, but as an Android 4.4 KitKat-powered tablet when the Intel Atom quad-core processor-powered 5-inch LTE smartphone is inserted into the tablet. it has a 2,500 mAh battery that gives up to 10 hours of web surfing time. being a Windows/Android hybrid, you will have the best of both worlds and access to both Google Play store, as well as Windows store.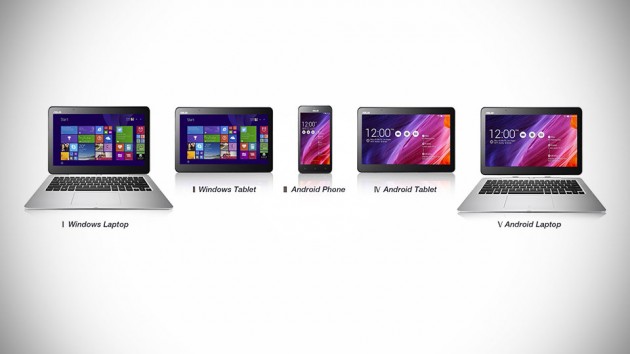 ASUS Transformer Book T300 Chi
the Transformer Book T300 Chi is also a 12.5-inch device, which also has a detachable display that allows it to shuttle between the duty as a tablet and a laptop. it boasts a WQHD IPS display with 2,560 x 1,440 resolution and has LTE support too. using Intel's next generation high-performance, low-power processor, this 2-in-1 device from ASUS shines as one that does without a fan, thereby allowing it to be way thinner than most ultraportable laptops – measuring just 7.3mm thin. that's awfully thin, considering some smartphones are much thicker than this. no word on when this baby will be available, though.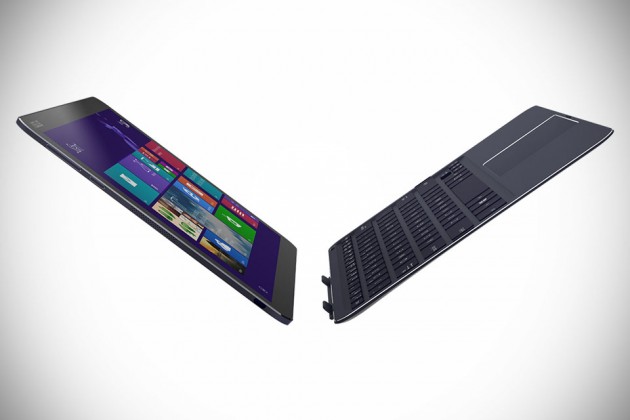 ASUS Zenbook NX500
the Zenbook NX500 carry the torch of ASUS ultraportables, which means it has the same sleek, unibody aluminum body in a super slim form factor. under the skin it is powered by an Intel Core up to i7 quad-core processor and up to NVIDIA GeForce GTX 850M graphics with no less than 2GB of VRAM. it is also equipped with Broadcom 3-stream 802.11ac, SATA 3 RAID 0 or PCIe x4 SSD storage and most amazingly, it is equipped with a 4K/UHD display turning out an eye-watering 3,840 x 2,160 resolution through its IPS panel.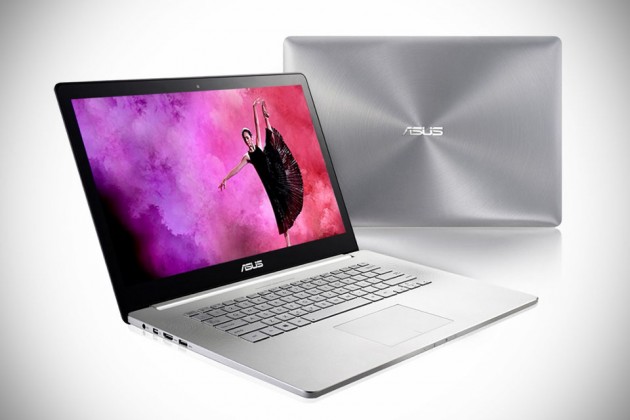 the display also touts a wide color gamut and factory-calibrated color temperature, making it suitable for photographers and creative professionals who demand accurate and consistent color fidelity. complementing the glorious UHD display are titanium-film speakers and SonicMaster audio technology, incorporating ICEpower, Bang & Olufsen technology.
Others
includes ASUS Portable AIO PT2001, ASUS ProArt PA328Q 4K.UHD Monitor, ASUS RT-AC3200 Router
ASUS Portable AIO PT2001
desktop PC is diminishing, but still ASUS has at least one to show off at the Computex. the ASUS Portable AIO PT2001, as it is called, is a 19.5-inch touchscreen All-in-One PC that is designed to be lugged around and takes up minimum desktop real estate. it has a built-in battery pack that allows up to five hours of use, so it can setup even away from the power outlet (and definitely will come in handy during those unapologetic power outages). it weighs just 3.2 kilograms and has an integrated, foldaway handle for ease of carrying. at its thinnest point, it is just 12.3 mm thin and the whole setup can be lay flat on the surface when needed.
powering this lightweight AIO is a 4th generation Intel Core processor, while graphics is undertaken by NVIDIA GeForce 820M GPU. oddly, 802.11ac and NFC are stated as 'optionals', but it do get a pair of HDMI ports. there is an interesting integration here though; if NFC is opted, it can work in conjunction with NFC-supported mobile device to allow instant Windows logon without actually typing the password. automatic photo and video backup from mobile device to the Portable AIO, as well as quick access to files from the mobile devices are also possible.
ASUS ProArt PA328Q 4K.UHD Monitor
there is also a monitor being announced, but not just any monitor; it is a 4K/UHD monitor designed with professionals in mind. sporting a massive 32-inch WLED display, the ProArt PA328Q 4K.UHD Monitor boast a 16:9 A.R. and 3,840 x 2,160 resolution with 138 ppi, offering you with over 8 million pixels of visual details. the monitor is factory-calibrated to prove the best color accuracy and provides a wide 100% sRGB color gamut for colors can be reproduced consistently.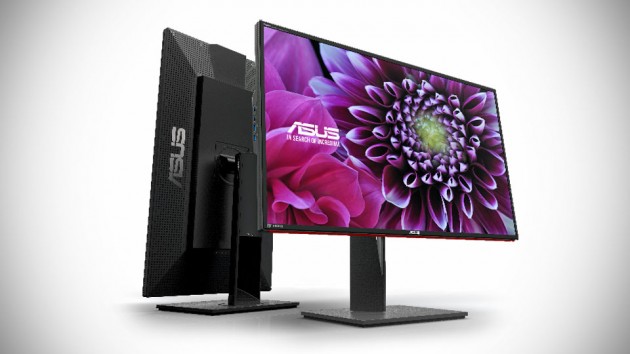 other details include 1.07 billion colors, 350 cd/m2 brightness, 10M:1 ASUS Smart Contrast Ratio, ASUS SplendidPlus Video Intelligence Technology, built-in Picture-in-Picture and Picture-by-Picture functionality, ergonomic tilt and swivel and pivot, adjustable height and a generous serving of I/Os including one DisplayPort, one mini DisplayPort, one HDMI 2.0/MHL 3.0 port, one HDMI 1.4 port and four USB 3.0 ports.
ASUS RT-AC3200 Router
ASUS is claiming the title of world's fastest tri-band 802.11ac WiFi router with the ASUS RT-AC3200 Router. the RT-AC3200 is said to have a combined data speeds of up to 3,200Mbit/s. ASUS has incorporated Broadcom six-stream 802.11ac MIMO into this 'flagship' router for maximum network speed in multi-user environments. in addition to that, there is also a SmartConnect feature that ASUS claims to achieve up to 200% WiFi performance by selecting the idea band for network clients based on their location and needs.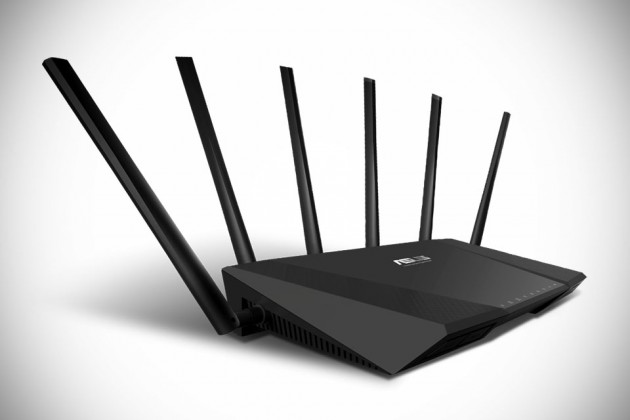 there is also an AiRadar that "intelligently strengthens wireless connectivity to improve WiFi coverage to network devices." IPv6 support comes standard with the RT-AC3200, so are wireless SSIDs and secure VPN access. finally, an Adaptive Quality of Service automatically give each connected device and application optimal bandwidth so that everyone on the network can enjoy the best possible Internet experience.
well, there you have it. the stuff that ASUS wants you to buy from them. though this list is by no means exhaustive as some may slips pass our radar. so far, availability is indicated for select products, but no words on the pricing.