now that the iPad Air travels further down the anorexic route, there's no reason for you have to lug a laptop around, but there is just one issue here: prolong typing on the touchscreen display can be a real pain in the butt. which is why you will need an accessory such as the QODE Ultimate Keyboard Case for iPad Air to ease you into the laptop-like typing mode. building on the success and know-how of the brand's QODE brand name, Belkin has adapted the Belkin QODE Ultimate Keyboard Case for the new iPad Air, bringing along with it the same functionality and quality you expect from any QODE keyboard cases.
complementing the new lighter and thinner iPad Air is an extremely thin and light aircraft-grade aluminum alloy keyboard that offers well-spaced keys for responsive and accurate typing, dual-sided aluminum protection, which when not in used, folds down to protect your iPad's display during transit. in its laptop mode, it allows for three angles of viewing and can be folded down, with the keyboard behind, to use the iPad as a regular tablet. a built-in rechargeable battery provides up to 264 hours (11 days) of active usage and up to a whopping 4,300 hours of standby time (that's 179 days or nearly six months of standby, if anyone's counting).
coming soon with a price tag of $129.99 ea. another look from the top after the break (as always, click on the image for larger view).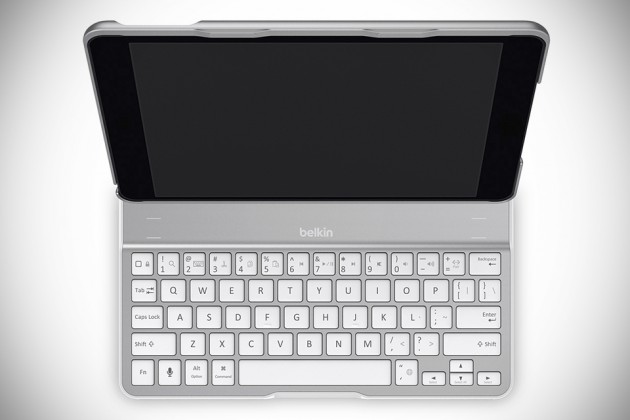 Learn about the Belkin QODE Ultimate Keyboard Case for iPad Air