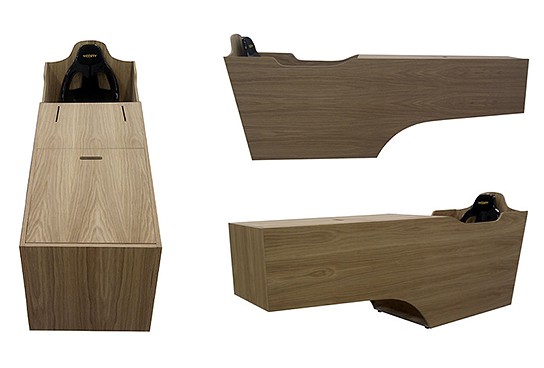 (image credit: Prosumer Racing Simulator) VRS-P1 Prosumer Racing Simulator | U$4,400.00
i'm still waiting to buy a set of the gaming racing wheel for my GT5 and like most racing simulator fans, i would love to have a home racing simulator but this is definitely not going to be one of the candidate that i have in mind. the VRS-P1 Prosumer Racing Simulator is constructed out of wooden (read: it's a wooden box) which lets you experience the claustrophobic environment within a real racing car. within its confine, the VRS-P1 features a custom built adjustable fiberglass racing seat, adjustable mounting plate for pedals and custom mounting plates for Logitech G27 racing wheel.
while the wood alone looks pretty neat but its boxy-ness looks too much like a coffin. buyers, if any, can choose from a variety of wood materials destined to become this boxy racing simulator kit. costing a wallet-busting $4,400 which don't even include one of those shiny new racing wheel set, it certainly something that even hardcore gamers would not die for. seriously. can't they do something out of fiberglass? or perhaps, carbon fiber? and a little bit less boxy would certainly helps. however, we can't exclude the possibility that are some with a penchant for racing games and at the same time, holds a grotesque fetish for coffin. if that's case, head on down to their ebay store and check it out yourself.
via Ubergizmo