Think Mad Max kind of chaos and think parties. What comes to mind? Fire-spewing cannon, spiked-covered vehicle with bulldozer blade, and of course, armored vehicles, along with more sinister stuff like human-skin drums and trumpets fashioned out of human bones. The Red Bull "Armored" Event Vehicle you see here does not have fire-spewing cannon, neither is it covered in spikes nor does it has a bulldozer blade fitted, but its angular "armored" looks should nevertheless, make it more than appropriate for some 'civilized' post-apocalyptic parties – that's if civilized is still an accepted behavior in any given post-apocalyptic scenario.
You probably can't tell, but this beastly-looking vehicle actually started life as a Land Rover Defender 130, a much used 4×4 that has been used the world over, across multitude of tasks, and the "armored" body it wears is made up of several inter-locking triangular pieces, replete with visible rivets in the appropriate places, that gives it the F-117 Nighthawk Stealth Strike Fighter-look. Of course, the F-117 does not have visible rivets like Red Bull "Armored" Event Vehicle, but you get the idea. It looks like the ride has been jacked up and rides on a set of off-road worthy knobby tires and a matted black paint job, finished with mandatory Red Bull branding completes the package (though we much prefer to see it draped in sand color).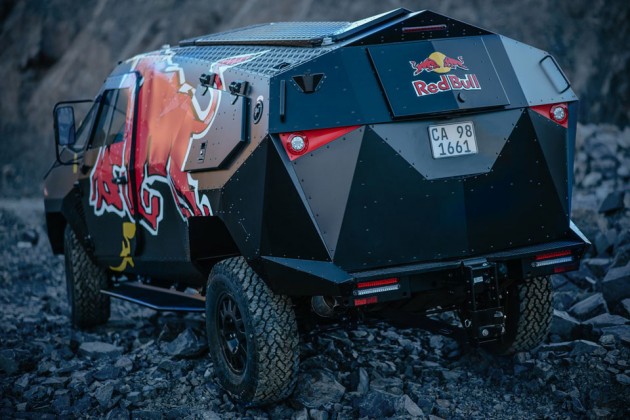 While it maybe the boldest event vehicle the energy drink giant has made thus far, it purpose is still the same and as such as, 'standards' like the entertainment system on the roof stays without much changes – except now that seems to have a checkerboard reinforced top. Details are scarce, but that's not important cos' all we know is, we are digging this latest "Armored" iteration. Heck, we wouldn't care less if it has a 2.2L in-line four or not.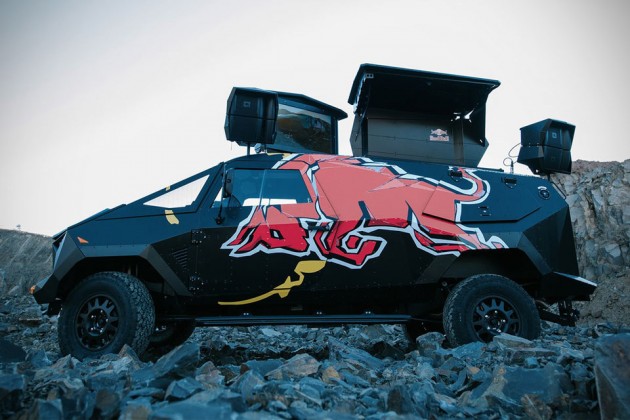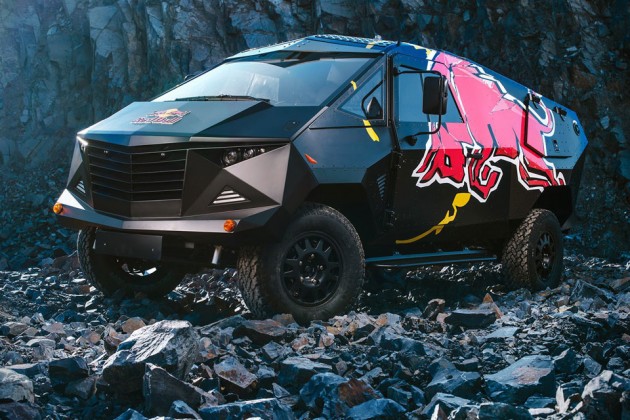 via Autoevolution