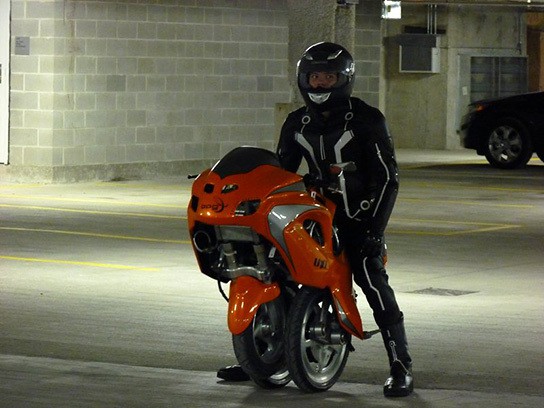 (credit: BPG Motors) UNO III Streetbike | £8,500.00 | bpg-motors.com
last year when we heard about the UNO, we didn't feature it because it was an old news but we are no less curious and keen to find out more. today, we have a good news for those who are ready to grab yourself one of these revolutionary transforming bike – the pre-order for the UNO III have begun.
[ad#Google Adsense-text-468×60]
UNO III is the third iteration of the original UNO bike. the original UNO has two wheels that are arranged in a unicycle style configuration for low speed traveling and transforms into a front and rear wheel streetbike configuration for higher speed traveling. additionally, UNO is a fully electric vehicle that is capable of 30 miles range on a single four hours charge, which means you can be reassured that no harm will be done to Mother Earth when you are zipping around with this cute little machine.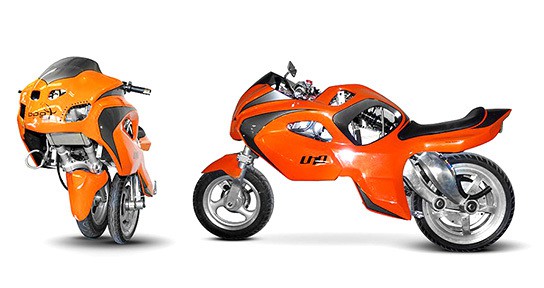 in its 'uno' mode, it is supported by its two rear wheels in a close side-by-side configuration. stability for this la-unicycle mode is achieved by the used of gyros to actively keep the bike balanced. in this mode, the bike's footprint is so tiny that it could even enter a lift or park in your living room. thus, getting your bike near an electrical outlet even if you are living in an apartment is actually possible. isn't it nice?
as UNO III picks up speed, the third wheel folds out to the front, and the two rear wheels slide back, transforming the Uno III into a full fledge streetbike in a seamless transformation process. there is no stopping or whatsoever, it just automatically transformed into a streetbike which is more suited for higher speed ride. in short, the 'uno' mode is for slow zipping around bustling street while the streetbike mode lets you enjoy faster speed in a less congested road.
the folks behind the UNO III is taking pre-orders on their website. you can order your Uno from them by plunking down a $250 refundable deposit with them or if you are residing in UK, you can pre-order your UNO III for £8,500 via Firebox. hit the jump to check out a video on the UNO in action and couple more images.