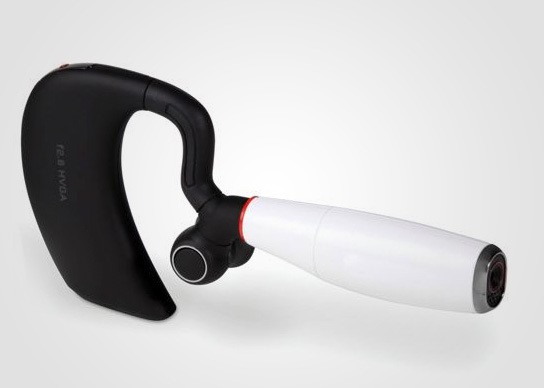 (credit: Hammacher) The Bluetooth Headset Camcorder | US$199.95 | www.hammacher.com
Bluetooth headset is not uncommon these days but you will hardly find one that doubles as a camcorder. The Bluetooth Headset Camcorder from Hammacher looks like any regular headset but hidden away in its 28 gram body is a video camera capable of recording 480p resolution video at 30 frames per seconds (fps) in MPEG4 format. that makes this a handy spy-gadget, don't you think so?
[ad#Google Adsense-text-468×60]
the video is wirelessly transmitted to either an iPhone or Android smartphone and as such, the smartphone actually doubles as a huge viewfinder for user to frame their shots. users will be able to share their videos instantly via email or post them on FaceBook or YouTube. the design of The Bluetooth Headset Camcorder features a flexible rubberized ear loop that allows it to be worn on either ear and the camcorder barrel is totally rotatable.
as a Bluetooth headset, active noise cancellation, one-touch call control, and volume control are standard features. the built-in rechargeable battery allows for up to four hours of video recording and ten hours of talk time. a full charge talks four hours via the wall outlet or nine hours if charging using USB port. captured footage can also be download to a PC via USB. The Bluetooth Headset Camcorder requires iOS 4.2 or higher, or Android 2.0 or higher and a free smartphone app available on iTunes or Android Market.
i couldn't find the iPhone app on App Store, so it could be an US only app. perhaps, it will be good to check it out before committing $199.95 for this lovely gadget.