when we first saw the product image of Ricoh's first action camera, the WG-M1, it took a while for us to digest the fact that it is an action camera cos' it doesn't look quite like one, but what's that has to do with all we about to say? nothing actually. it was merely an observation on our part. anyways, here it is, Ricoh's very first action cam to join the already overcrowded action camera party and it brings with it a design influence that befits the WG series: one that has too many things going there. blessed with a 14-megapixel CMOS sensor, the WG-M1 is like many action cameras before it, built tough. it is waterproof to 10 meters (or about 33 feet for up to one hour), dust-proof, resistant to extreme cold temperature down to minus 10 degrees Celsius or 14 degrees Fahrenheit, and is totally capable of sustaining drops from heights of up 2 meters (6.6 feet).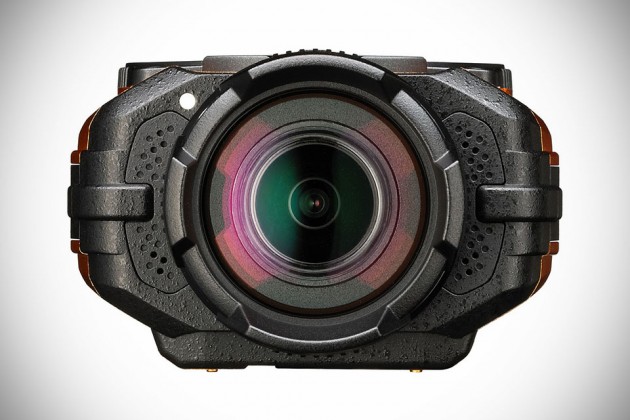 on the imaging aspect, the 14-megapixel sensors is matched to a f2.8 lens with 160-degree field of view and records in Full HD at 30fps with H.264 compression, or at 60fps when recording at 720p. though is well capable of recording at 120fps, but at the expenses of definition, sound and duration (it only records at 60 seconds). the action camera also comes with digital shake reduction mode for a flawless, blur-free footage, with a choice of four angle-of-view settings, including wide (around 137 degrees), medium, narrow and underwater. other details include a 1.5-inch LCD display, built-in WiFi, remote operation when paired with a smartphone or tablet, motion detection mode, face detection AF and AE function, generously size buttons for easy operation even with gloves on, and it is compatible with a slew of mounts to suit almost every action sports you can think of.
the Ricoh WG-M1 Action Camera is slated for release next month in a choice of black or orange body for $299.95. keep going to see a clip recorded using the WG-M1 Action Camera.