we are avid watchers of new gadgets and so it is only natural that we get excited when we were hit up by a PR text from Samsung saying "Samsung launches industry's first Tizen Smartphone", but alas, our excitement was short-lived. while it is true that the South Korea giant has officially let the specs (we will come to that later…) out and claims that the first Tizen-powered handset, the Samsung Z, is the first commercially available smartphone, it won't be available to you and me anytime soon – unless you are in Russia or some CIS countries. aesthetically, the Samsung Z breaks the Samsung design language by opting for an angular design in a reasonably thin profile of 8.5mm. fronting the devices is a 4.8-inch HD Super AMOLED display, while under the hood is an unnamed quad-core processor clocking in at 2.3GHz, 2GB RAM and 16GB of internal storage that's, as always, expandable up to 64GB via microSD.
so why should we get excited about Tizen-powered device? well, for starter, Tizen is yet another open-source operating system which promised "a fast, optimal performance with improved memory management." additionally, the Tizen 2.2.1 running on the Samsung Z also promised faster startup time and "immediate multi-tasking capabilities." according to Samsung, it will have "superb 2D and 3D graphic qualities, smoother scrolling and an improved rendering performance for web browsing." promises are promises, how well it really works out remains to be seen. anywho, also built into the Z is a fingerprint sensor and an 'Ultra Power Saving Mode' that will enable the handset to continue operation even with minimal juice left.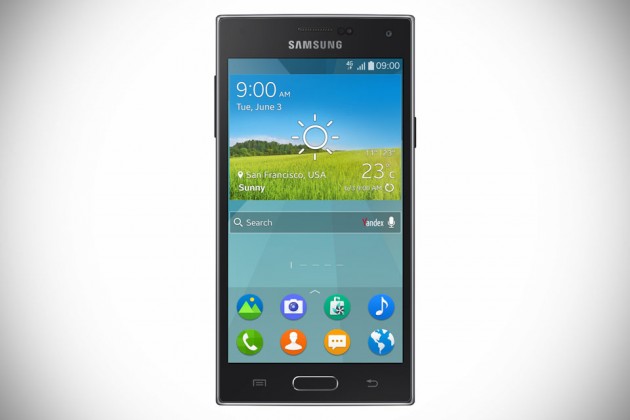 the Tizen is also customizable, allowing you to tailor the UI using Dynamic Box and Color Theme. design-wise, the handset looks 'ok'. really nothing jaw-dropping as much as Sammy might have wished for and at glance, it looks kind of like the handset might have pulled an Android handset's design and stuff Tizen-specific specs into it. that said, we are not a huge fan of the fake stitching, similar to those found on a couple of Samsung Android models including Grand 2 and Note 3, on the back cover.
the Samsung Z is set to be available in Q3 in Russia with an unannounced price. there are plans to expand to other markets, but we doubt it will be reaching elsewhere other than CIS territories. in any case, a Tizen Store will also be launch in conjunction with the Samsung Z, but don't expect a whole lot of stuff in there. like other platform, it will take time for the apps to start piling up.