This is Sink Spinner by New Jersey startup Hayden Endeavors and it is a brilliant invention. In a gist, Sink Spinner is a faucet attachment that turns the it into an automatic sink cleaner.
In addition, it is also a great water saving device that claims to save over a gallon of water per minute. As the name suggests, Sink Spinner, well, spins. Leveraging on the power of running water, the attachment spins and throwing water around the sink and thereby rinsing it of grimes and stuff.
For a person who are obsessed with household chores, including cleaning the sink, Spin Spinner certain struck a chord with me. With this invention, the days of using your hands or a container to introduce water to the walls of the sink when cleaning is over. It really is a genius invention.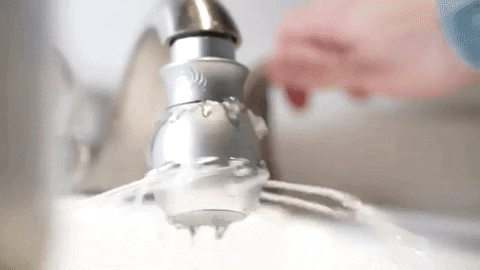 Here's the backstory of this product:
"What's super fun about this product is that the founder, Bryan, a single dad, invented the product with the help from his then 3rd grade son, a special needs child. Hayden presented this product idea at a 3rd grade pitch project for Hayden's elementary school in Long Branch New Jersey, and won the competition. They went on to pitch their product idea to their local SBDC and won that project too! The mayor of the town of Long Branch, along with their entire elementary school will be part of a virtual launch event, and ribbon cutting ceremony on the evening of November 10th."
Since the device leverages on the power of running water, batteries are not required. It offers two modes: spinning and regular flow mode for regular use. The latter mode will also slows down the flow of water to 1.2 gallon per minute, which leads to significant saving of water.
Sink Spinner will fit any regular faucet (though not those waterfall style faucet like the Tonino Lamborghini's).
Sink Spinner was a recently funded campaign on Kickstarter. For those who missed it, you may secure a unit by pre-ordering it on Indiegogo InDemand for US$49 or more, for shipping in March 2021.
Images: Hayden Endeavors/Sink Spinner.