for a while, Smart had teased the public with its big city car concept and today, the automaker has finally unveiled not one, but two new models to its lineup, namely the third-generation ForTwo and a second-generation ForFour. both models features Smart's signature triton cell construction, conveniently highlighted by a two-tone paint job. while the ForTwo looks suspiciously like its forebears, Smart has introduced improvements in many areas. if anything, we thought the new ForTwo is more muscular-looking and has a stance that looks like it is ready to pounce (on something). then again, ForTwo, or Smart for that matter, is hardly a ride that would pose any serious threat to other rides (unless it is a 'Smart tank'). it is a nice, cute little car nonetheless.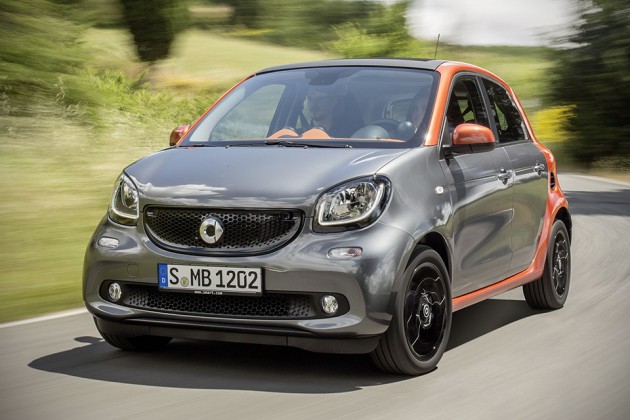 the ForFour, on the other hand, boasts a completely new design and is essentially a stretched version of the new ForTwo. it has, naturally, five doors and seats four, and along with the ForTwo, it shares the same underpinning as the Daimler-Renault developed Twingo, which means these new rides have rear-mounted engine configuration and are rear wheel driven. continuing with the ethos of fun and functionality, the Smart ForTwo retains the same 2.69 meters overall length with a wheelbase of 1.87 meters, while the five-door model stretches to 3.49 meters with 2.49 meters wheelbase – both with notably short overhangs. not surprisingly, the height and width of both cars are exactly the same at 1.55 and 1.66 meters, respectively.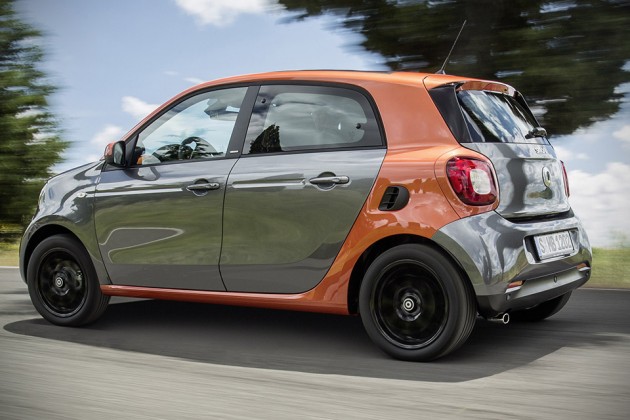 the ForFour also touts rear doors that opens to 'almost' 90-degree to facilitate ease of ingress and egress, while folding front passenger seat comes standard on both models. as for cargo space, ForTwo has 350 liters to its name and the ForFour has just 185 liters, but it can be further boosted to a cool 975 liters with the rear seat folded down. at launch, both models will be offered with a choice of two three-pod engines: a 999cc petrol unit pushing out 71 hp and 67 lb-ft of torque and a range topping turbo unit that squeezes a respectable 90 hp and 99 lb-ft out its 898cc engine. the turbo unit also boasts an electronically controlled wastegate, which the automaker claims to enable the increase in engine performance but with a sustainable reduction in fuel consumption. a 60 hp 'basic petrol engine' will be introduced "a few months after the market launch."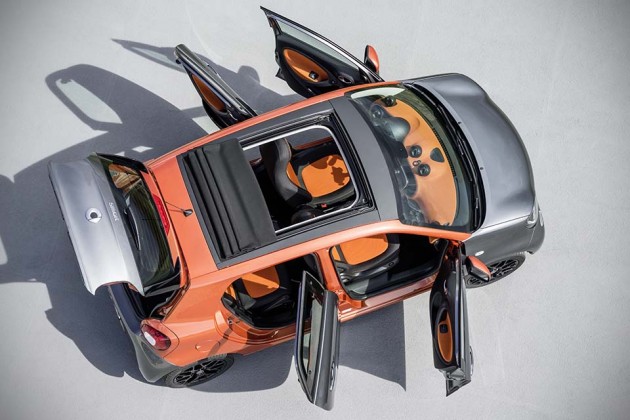 transmission comes in the form of a five-speed stick shifter or the twinamic automatic dual clutch gearbox. other noteworthy highlights include tight turning radius, hill hold function, brake assist, direct-steer system with variable ratio and electric power assistance, crosswind assist, and a multimedia system with smartphone integration and up to twelve speakers. the new Smart Fortwo and ForFour is set to roll into EU dealers in November with prices to-be-advised. we must say the new Smarts certainly has our hearts fluttering a little (men also have the rights to fall for cute things too), but it is unfortunate that the ginormous 'big city car' isn't real. just kidding. of course we know it was a 'prank', but won't it be nice if it really happen?