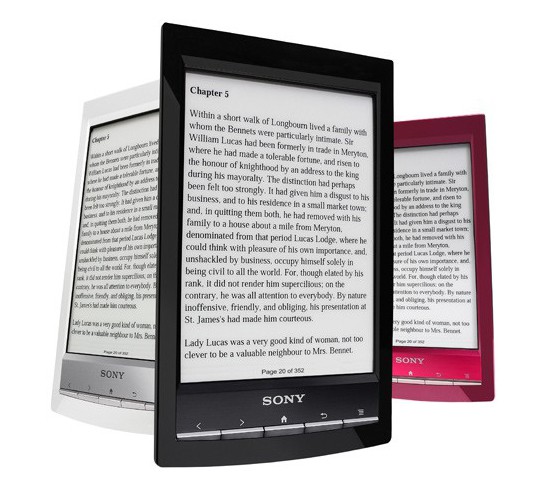 (credit: Sony) Sony Reader WiFi | US$149.00 | www.sony.com
even with the flood of tablets going round the market, some would still prefer the good old ebook reader's e-ink benefit to the eyes. if you are still snooping around the market for one, Sony has one for your consideration. dubbed simply as the Sony Reader WiFi, this latest addition to Sony's ebook reader range is touted to be the world's lightest 6-inch eReader, weighing just 170-grams (6-ounces). it is also the first ebook reader to offer wireless connectivity to the public library system in the U.S. and Canada. with a touch of an icon, user will be able to easily browse and borrow free e-books with a valid library card. honestly, i think this is the coolest feature of an ebook reader that i have heard to date. of course, user can also choose to access Sony's Reader Store or a wide range of bookstores to purchase ebooks.
[ad#Google Adsense-text-468×60]
some other features include support for file formats like EPUB, PDF and TXT, glare-free Clear Dual touchscreen, long battery life for more than a month, WiFi connectivity (obviously), multi-language support, built-in dictionaries and 2-GB of onboard storage. for fans of Harry Potter, there's more good news. actually, just one. Sony is also offering a special edition of this Reader WiFi that includes a Pottermore promotion where it includes a voucher for fans to download the first Harry Potter ebook title for free from Pottermore website, when it becomes available. the Sony Reader WiFi and the Reader WiFi with Pottermore promotion are slated to hit the stores this October with a price tag of $149. official press release after the break.
[toggle title_open="Close Press Release" title_closed="Show Press Release" hide="yes" border="yes" style="default" excerpt_length="0″ read_more_text="Read More" read_less_text="Read Less" include_excerpt_html="no"]
SONY INTRODUCES WORLD'S LIGHTEST 6′ eREADER WITH ENHANCED TOUCH SCREEN
ReaderTM Wi-Fi® will be the world's first eReader to provide wireless public library access directly on the device to borrow eBooks
San Diego, August 31, 2011 – Sony today announced the launch of the lightest touch screen 6" eReader device ever, Reader Wi-Fi (PRS-T1), providing the most natural and immersive reading experience yet for book lovers. The new Reader Wi-Fi builds on the popularity of last year's line, while reducing size and weight and incorporating new and enhanced features. At under 6 ounces and with a 6" E-Ink® Pearl V220 touch screen, Reader Wi-Fi is smaller than an average paperback book, can easily fit into a bag or pocket and is available in three color choices: black, red or white.
As part of Sony's continued effort to support the Public Library System, Reader Wi-Fi will also be the first eReader to offer wireless connectivity to the public library system in the US and Canada via a dedicated icon on the device to allow easy and convenient borrowing of free e-books with a valid library card. Readers can access and download over 2.5 million titles via a Wi-Fi connection from Reader Store or shop from a wide range of bookstores and other websites that provide books in digital formats compatible with Reader Wi-Fi, such as EPUB, PDF and TXT.
"We believe in giving readers more freedom and flexibility while reading, and the new Reader Wi-Fi gives avid readers more access to content than ever. Bibliophiles can now buy, borrow or download free books wherever there's a Wi-Fi connection," said Phil Lubell, vice president of Networked Technology and Services Division at Sony Electronics.
Sony's first offer in collaboration with J.K. Rowling's eagerly anticipated Pottermore website (www.pottermore.com) is a specially-created Reader Wi-Fi with a Pottermore promotion (PRS-T1HBC) which includes  a voucher that enables Harry Potter fans to download free the first Harry Potter eBook title, Harry Potter and the Sorcerer's Stone, from Pottermore, when it becomes available.  Pottermore, partnered with Sony, is a unique website which builds an exciting and immersive online experience around the Harry Potter books and is the exclusive retailer of the Harry Potter digital eBooks.
Reader Wi-Fi will feature a glare-free Clear Dual Touch screen. E-Ink Pearl electronic paper displays a high contrast image that is easy to read for hours, even in direct sunlight. Book lovers can touch the screen to choose a book, swipe a finger to turn the page, zoom in and out by pinching fingers together or apart, tap and hold a word to find its meaning or translate into one of the 5 supported languages.  On board are 12 dictionaries including 2 English language (British/American) and 10 translation (to and from French, German, Spanish, Dutch and Italian).  Readers can even 'write' notes on the page or highlight text with a finger or the supplied stylus – just like a real book. With a battery life of over one month (3 weeks with wireless on) and 2 GB of storage capacity (enough to hold about 1,200 eBooks), Reader Wi-Fi makes reading easier, virtually anytime and anywhere.
In order to provide the most engaging reading experience, Reader Wi-Fi offers users numerous options for customization. Users can view collections of digital photos on-screen, plug-in headphones to listen to stored music while reading, or change the image on the front cover to the current title or to a favorite photo as a screensaver when your Reader Wi-Fi is in standby mode. Users can also personalize the reading experience by choosing from eight font sizes and a choice of six font styles. Screen contrast and brightness are easily adjusted for comfortable viewing in any lighting condition.
Reader Wi-Fi (PRS-T1) and Reader Wi-Fi with Pottermore promotion(PRS-T1HBC) are expected to be available October 2011 for about $149 at Sony Stores, online at http://store.sony.com, and other authorized retailers nationwide.
[/toggle]
SOURCE: Sony