according to a published research from InfoTrends, local, state and federal offices used a yearly volume of 122 billion sheets of paper which amounts to roughly 400 sheets for every person in the U.S. and this is where Sony Digital Paper wants to take a stab at: by reducing the use of paper and in the process, increases productivity and streamline collaboration in paper-intensive environments. the Digital Paper is basically a big-ass eReader with added capability like enabling notes to be shared, writing fluidly and directly on the panel with the included stylus, as well as highlighting and erasing text. basically, the Digital Paper replicates what one can do when using traditional papers but with the benefits of easy access and search of documents and reducing physical storage needed required by traditional papers.
when probably established, the Sony Digital Paper will also offer wireless access to document management solutions and other content repositories, which will vastly improve work efficiency when it comes down to searching for research papers or past legal documents, where in the past would require serious manual scouring through stacks of bound documents and files. imagine the possibility of calling up precedent cases just by keying the relevant search terms and such. when applied to meetings, classes or lectures, materials created on computers can be uploaded to a server and distributed wirelessly to the Digital Paper devices of colleagues and students in multiple locations, thereby saving time and making meetings and classes more efficient, and that's not to mention the tons of paper we are going to save. again, productivity will be pushed up a couple of notches when it comes to sharing of handwritten digital memos and also searching for documentations.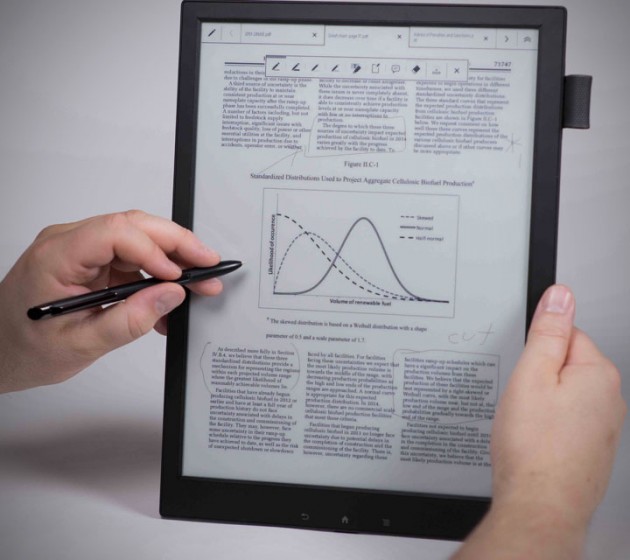 searching is the big part of many work processes, especially in the fields of research and legal, and thus, the prospect of searching paper documents like we would on our computer would most definitely pushes productivity to a level that's not possible today. obviously, for the Digital Paper to work seamlessly, a robust backend and networking system have to be in place, but in long run it is going make a huge difference in the way we work and interact. hardware-wise, the Sony Digital Paper sports a 13.3-inch e-ink display capable of displaying full-screen view of letter-sized documents in PDF format, which allows it to be read without the need for zooming or scrolling. the device measures just 9/32-inch thin (about 7.14 mm) and at just 12.6 oz. or about 357g, it is no heavier than today's large size tablet, which makes it easy to tote around.
other spec sheet details include a high contrast display with 1,200 by 1,600 dots, 16-level grayscale, "E Ink Mobius" technology, sunlight readable, built-in WiFi, rechargeable lithium-ion battery with up to 3 weeks use per charge, 4GB onboard storage, and expandable storage via microSD card slot. the Sony Digital Paper will be available in May, initially through a select group of Worldox agents, for a SRP of $1,100.