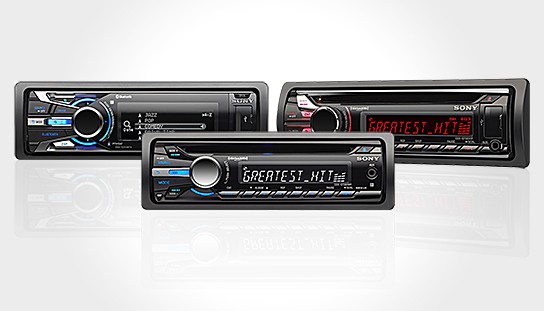 (credit: Sony) Sony CDX and DSX In-dash Car Stereo | from US$70.00 | www.sonystyle.com
Sony has just announced a new line up for its car stereo which include six models that has SiriusXM satellite radio compatibility and Pandora Internet radio support. it makes perfect sense as we are already enjoying such services in our home, and why should we miss out on those services when we are commuting from point to point? but is it too late? well, perhaps not for Sony fans. among the eight models announced two models, namely, CDX-GT565UP and CDX-GT660UP supports both SiriusXM and Pandora. two other models sports SiriusXM compatibility (CDX-GT56UI and CDX-GT360MP), while another two models feature support for Pandora (DSX-S310BTX and DSX-S210X).
[ad#Google Adsense-text-468×60]
along with the six models that support SiriusXM and Pandora, Sony also announced two top-of-the-line car stereo (designated models CDX-GT40U and CDX-GT260MP) under the CDX model line. these duo promise to deliver crisp and clear sound at an affordable price. the unit delivers 52 watts of peak power to up to four channels for a total output of 280 watts. additionally, the GT-40U offers an additional front USB port and features Quick-BrowZer search function for easy search of music by artist, album, genre, song or playlist. one common feature across the CDX line is the Digital Clarity Tuner which ensure consistency in sound performance for radio even if the user is further away from the transmission station.
all eight models are expected to hit the stores this September with a retail price starting from $70 and runs up to $280. seriously, i can't believe the prices myself when i read the press release. years ago, when i was into car stereo i can't find Sony in-dash unit with this kind of pricing. times has certainly changed. too bad, single-DIN units are out for me these days. hit pass the jump for the official press release.
[toggle title_open="Hide Press Release" title_closed="Show Press Release" hide="yes" border="yes" style="default" excerpt_length="0″ read_more_text="Read More" read_less_text="Read Less" include_excerpt_html="no"]
SONY CONNECTS DRIVERS WITH SiriusXM™ and Pandora® ON NEW CAR STEREO LINEUP
New models integrate exciting connectivity features at lower price points
San Diego, August 10, 2011 – Sony is expanding its mobile audio lineup with eight new in-dash CD receivers. The new models range from entry-level units to advanced receivers and digital media players that offer SiriusXM satellite radio and Pandora internet radio connectivity in the car.
"Consumers want their audio choices personalized to match their individual needs and preferences, especially while they are in their cars," said Mike Kahn, director of the Audio Product Division at Sony Electronics. "Sony is redefining content selection in the car. Whether someone wants convenient access to commercial-free music and sports, news, talk and entertainment from SiriusXM, music discovery services like Pandora or iPod® and iPhone® compatibility, we now have a solution at lower prices than ever before: We now offer SiriusXM compatibility from as low as $90 SRP and Pandora compatibility from as low as $130 SRP."
Universal SiriusXM™ Satellite Connectivity
Four of the new models (CDX-GT565UP, CDX-GT660UP, CDX-360MP, CDX-GT56UI) feature SiriusXM compatibility, using the new SXV100 SiriusXM Connect Vehicle Tuner Kit (sold separately, XM subscription required). The compact SiriusXM vehicle tuner has a simple connection, providing integration of SiriusXM in an inexpensive and easy-to-install package. The SiriusXM vehicle tuner also provides numerous new features including the ability for listeners to pause and rewind live SiriusXM satellite radio.
The entry-level CDX-GT360MP model is SiriusXM compatible plus offers great sound quality from its built-in equalizer and powerful 52×4 watt high power amplifier – all at an affordable price point of $90 SRP. The step-up CDX-GT56UI model offers all the features of the CDX-GT360MP receiver and adds iPod and iPhone control, allowing users to control digital music using the USB 1-wire, and 7 Band Digital Equalizer, Time Alignment and Automatic Level Optimizer.
The CDX-GT565UP model, also SiriusXM compatible, allows users to stream Pandora from an iPhone, customize the receiver's illumination to complement existing lighting components with the Dynamic Color Illuminator and create an impressive listening experience with the Advanced Sound Engine. Users can also control digital music players using the USB 1-Wire feature. The receiver features Automatic Level Optimizer, which analyzes each track's playback levels and adjusts output level to optimize transitions between tracks and sources. The CDX-GT660UP unit adds a drop down panel design, two line LCD display and SensMe™ channels to organize music into playlists that perfectly match any mood, scene or location.
"The SXV100 connects drivers and their passengers to entirely commercial-free music and exclusive entertainment they can only find on SiriusXM," said Sean Gibbons, Vice President, Consumer Electronics Product Marketing, SiriusXM. "We are thrilled that Sony is introducing a car stereo lineup that is SiriusXM-Ready, giving customers the ability to control and enjoy satellite radio on the road."
Sony offers SiriusXM capability, starting at only $90 SRP, on the CDX-360MP, CDX-GT56UI, CDX-GT565UP and CDX-GT660UP models.
Stream Pandora Wirelessly – From Any Device
Sony's two newest Digital Media Players, the DSX-S210X and DSX-S310BTX models, feature an integrated Tune Tray to connect and control an MP3 player without unsightly and distracting wires, dual USB 1-wire inputs and an easy to read 4-line OEL display. Both also feature the SensMe application, to better organize playlists.
The Pandora integration on the DSX-S210X and the Bluetooth® enabled
DSX-S310BTX digital media players allows listeners to stream Pandora via the application on their smartphone, and transfers the Pandora-related controls to the head unit. Both models allow listeners to access their personalized Pandora stations and the ability to fine-tune the listening experience by offering thumb ratings directly on the receiver. The DSX-S210X digital media player is iPhone compatible; the DSX-S310BTX is iPhone compatible and is also the first aftermarket product to offer Pandora integration with the Android™ and Blackberry® smartphone platforms.
"The car is the most popular place to listen to the radio," said Jessica Steel, executive vice president of Business Development at Pandora. "We are excited that Sony is making Pandora available in its in-dash receivers, enabling seamless access for iPhone, Android and Blackberry users alike."
Sony offers Pandora compatible receivers starting at only $130 SRP and up to $280 SRP on the CDX-GT565UP, CDX-GT660UP, DSX-S210X and DSX S310BTX models.
Entry-Level Value, Top-of-the-Line Sound
Also joining the car audio lineup are the CDX-GT260MP and the CDX-GT40U receivers. The CDX-GT260MP model is a front auxiliary model with a slot panel design that features crisp and clear sound at an affordable price. The receiver delivers 52 watts of peak power to all four speakers for powerful output (208 watts total power) while the red key illumination helps users locate buttons quickly during evening playback. The CDX-GT40U unit additionally offers a front USB connector and intuitive search features Quick-BrowZer®, which finds music by artist, album, genre, song or playlist, and ZAPPIN™, which plays a 6/9/30 second introduction clip to help find a specific song. Also included in the CDX-GT40U model is Automatic Level Optimizer. All six CDX models also feature a Digital Clarity Tuner™. A conventional tuner loses stereo sound of FM radio when further away from the station, but the new digital processing tuner expands stereo area, improving sound performance.
Pricing and Availability
Each of the new in-dash models will be available in September, at the following suggested retail prices:
Within the new CDX lineup, the CDX-GT260MP, CDX-GT360MP, CDX-GT40U, CDX-GT56UI, CDX-GT565UP and CDX-GT660UP models have an SRP of $70, $90, $95, $100, $130 and $150, respectively.
The DSX-S210X model has an SRP of about $200 and the DSX-S310BTX model has an SRP of about $280.[/toggle]
SOURCE: Sony