There is a tool for every job and in case of night operations, be it search and rescue or night fishing, there are searchlights to light up the way. However, the mention of searchlight sounds kind of heavy and it is, but thanks to the advancement in LED technology, it is now possible to have searchlight that fits into the palm of your hand and the SureFire UDR Dominator Flashlight is one such flashlight. Make no mistake. This ain't your typical Night at the Museum's security kind of flashlight; this little guy here has an incredible 2,400 lumens of brightness on the tap which, though not the highest output to reach our hands, is the most powerful LED flashlight yet from SureFire.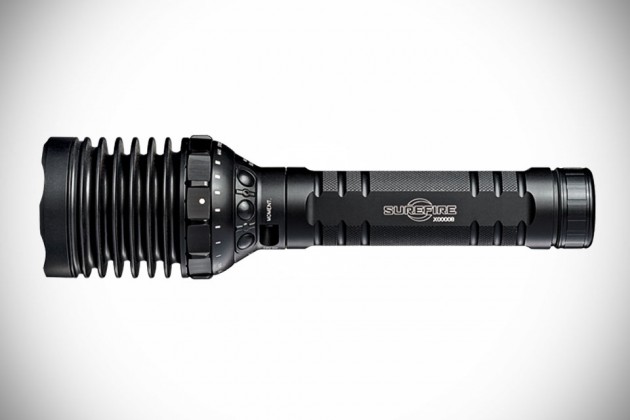 Presented in a 'regular' stick-type form factor, the UDR Dominator sports a huge heat sink for effective heat dissipation and a high-strength, hard-anodized aerospace-grade aluminum body. On the illumination front, it boasts a "virtually indestructible" LED emitter that's microprocessor-regulated to maximize output and runtime and offers 9 output levels (from max out 2,400 all the way down to 14 lumens), selectable via a 11-position selector ring. In addition to a MaxBlast mode that provides quick access to maximum power output, strobe, momentary-on and the garden variety of features you expect from a tactical flashlight can be found on the UDR Dominator too. The flashlight can be powered either with the supplied rechargeable lithium-ion battery or twelve disposable 123A cells, albeit at the expense of reduced runtimes across all settings.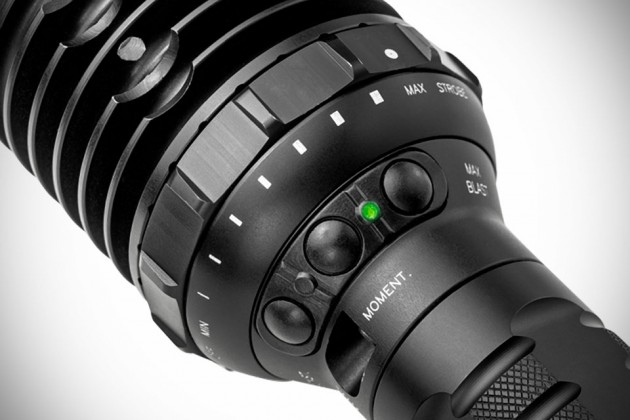 Other mentions include impact and thermal resistance window, precision reflector for extended-range beam, three head switches letting you access to constant-on, momentary-on and MaxBlast, "fuel gauge" to keep you in the know of the remaining battery power, and of course, O-ring to keep dirt, dust and moisture at bay, though the extend of dust and water resistant are not explicitly detailed. At 12 inches long and 2.4 pounds, it is not exactly the most handy handheld lighting device, but it sure beats lugging a backbreaking spotlight into the forest. However, all these come with a hefty price; SureFire wants you to handover a cool $1,370 for one. Yes. You heard that right. 1.3K for a flashlight, or otherwise known as a torchlight.