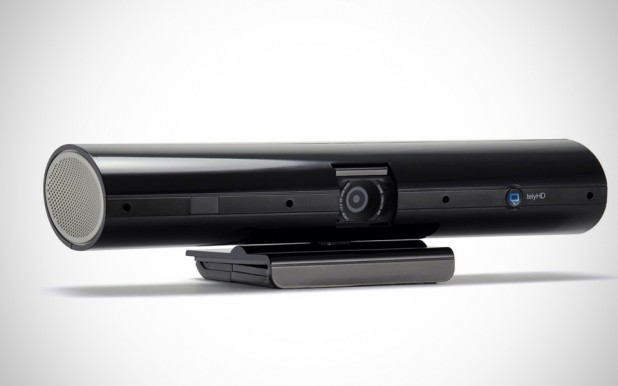 telyHD | US$229.99 | www.tely.com
sure. Skype on TV isn't new, let alone webcam for TV but the telyHD from Menlo Park-based company, Tely Labs begs to differ from the rest of the lesser kind. while it is totally capable of Skype-on-TV, it is more than just a webcam placed on top of your HDTV. in fact, it is way more than that. Tely Labs wants us to think of it as a tablet that runs off your standard HDTV and hence, it is powered by the popular Android Operating System and is equipped with NVIDIA Tegra2 dual-core ARM A9 processor, plus on-chip GPU to cope with rendering of beautiful HD 720p Skype video at 25 frames per second (fps). being powered by Android means opening up your TV to endless entertainment opportunities (apps and all) and if that isn't enough, a USB port and a SD card slot are available for plugging your digital content-laden USB flash drive or SD card, to be enjoyed on the big screen.
since video call is the main highlight of this gadget, Tely Labs have made sure it does what it suppose to do well by equipping it with not two but four noise canceling microphones for enhanced audio quality. thus, users will get to enjoy both visual and audio clarity when executing their video calls. other highlights include 512MB of RAM, 2GB of onboard storage, privacy shutter over the camera (you know what's that for, don't you?), built-in speaker, mini HDMI port, Ethernet port, built-in WiFi, one push-to-call, HD video mail, and support for standard password security, including WEP, WPA, as well as WPA2. and the best part is, the telyHD will works with virtually any HDTV with a free HDMI port – a plus point considering most 'webcam' for TV requires a USB connection. so it is a good news for those who are still holding to older HDTV sets. all told, such goodness and convenience doesn't come cheap as each of these will set you back at $229.99. then again, this isn't just a webcam.