With times we have accepted the fact the toilet has to be in the house instead of an outhouse and with that acceptance, we have also grown accustomed to the having a white porcelain throne within our bathroom, well, unless you are Donald Trump, then you probably have a gold one instead. However, if that white hardened clay sitting in your favorite haunt in your home irks you, then I think American company ToilèChic may be able to help. So what or who the heck is ToilèChic? Well, they are specialist in disguising toilets and turning them into more aesthetically-pleasing chairs which you sit on like any regular chair. Yes. You heard that right. Sitting in the bathroom. That's something new to us and we can't help but to wonder who does that?
Anywho, if that's your interest, so be it. Hey, we won't judge, we promised. It may seem like these guys are just covering up things, but they are definitely not sweeping 'problem' under the carpet. According to ToilèChic, "no expense was spared, no detail overlooked, and no corners were cut in making ToilèChic." The company proudly proclaimed that ToilèChic is the finest innovative product on the market and has virtually no competition at all. And oh, it is made entirely in the U.S. of A. A total of five styles are being offered, with options like skirting, or padded pop-out panel for easy cleaning under the 'chair'. Everything you expect a toilet to be has changed on the surface, but under the hood, it is still the same old toilet bowl and tank combo from either Toto or Kohler.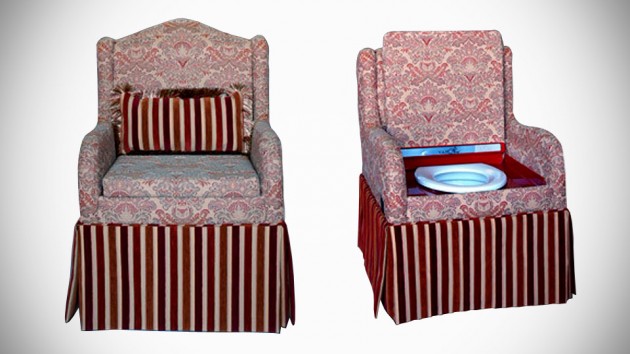 Modifications were made where necessary to accommodate the new throne, such as integration of the recliner handle flush mechanism, and buyers are given a choice of fabric or faux leather for the material of the chair. You won't have to worry about the hygiene and cleaning aspects of ToilèChic, because the materials used are easy to clean and disinfect, and stain and odor resistant. With this installed, I think dudes will be pressured to have a better aim. Eh? You know? So as not to mess up a beautiful throne, even though it is totally cleanable. Still, no one wants to be sitting on piss, right? There is also matching Bidet for select models too. As for the price, it is understandably 'not cheap'. Expect each setup to suck up $4,950 of your asset, add $2,500 if you want the matching bidet.
P.S. You can catch ToilèChic at the Kitchen and Bath Industry Show in Las Vegas between January 20 and 22, 2015. Also, catch a product video after the break.