Driven by the passion of not wanting to add to the piling electronic waste and the desire to boost the smartphone volume, Slovenia-based Tok Tok Furniture created a compact, handsome natural amplification speaker for smartphone that's crafted entirely out of wood. By using wood, the solution is totally sustainable and uses not a wee bit of electronic that could otherwise harm the environment. Dubbed Trobla, it us fashioned out of hard wood, maple or walnut, and designed with portability in mind. Measuring 3.15 x 3.9 x 3.9 inches (8 x 10 x 10 centimeters), Trobla's cube-like form features a cone-shaped recess that pipes and, leveraging on the principal of natural amplification, amplifies the sound of the smartphone docked on top of it. The result is a boosted sound without the aid of electronics, requires no battery and most importantly, looks ridiculously handsome.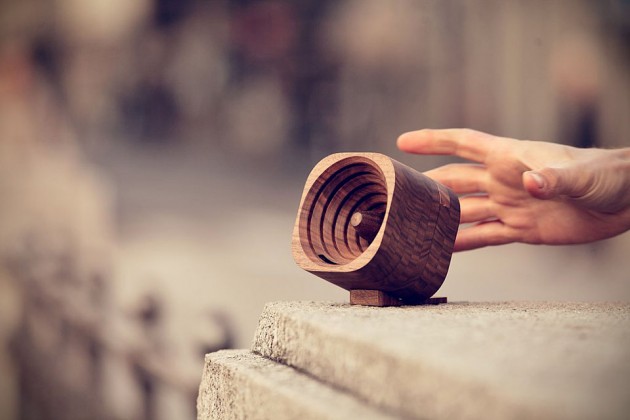 Each Trobla wooden natural amplification speaker features a removable wedge stand to angle the speaker and an interchangeable dock that allows it to be swapped out for other pieces with cut out for different generations of iPhone or different smartphone models. It is the single most brilliant idea which effectively future-proof this handy power-free speaker. At the time of this writing, Tok Tok stated that the Trobla will fit all iPhone models, Nexus 5, OnePlus One, Sony Xperia Z1, Z1 Compact and M2 Aqua, and three Samsung Galaxy models, including Alpha, S6 and S6 Edge. There is a catch though. The speaker is designed for devices with speaker at the bottom and therefore, devices like the HTC M8 or M9 with stereo front-facing speakers will not be suitable.
You can pre-order Trobla Wooden Natural Amplification Speaker from Kickstarter for 65 bucks. It is handsome product and so, it is not surprising that the campaign has exceeded its initial funding goal, which means your pre-order could be at your doorstep as soon as June 2015.