craft beer lovers. you know how is it like with growlers. they are a moment of joy thing, cos' days later all that's left is flat brew and that's not to mention the insult of having pour, instead of draining it from a tap and also glass growler can be really fragile. yes. you can get a kegerator to solve your craft beer woes, but that's if you are prepared to drop good money on one. understanding these craft beer lovers' heartbreaking woes, Growler Werks came up with an uber stylish solution that's almost steampunk-ish – thanks to the brass accents – and a pressurized growler dubbed uKeg that will keep your beer fresh for as long as you want. sounds like an impossibility? nope, it is not. the magic lies in the engineered seal paired to a CO2 regulator cap that keeps oxygen from messing up the beer. a dial lets you dial in the carbonation and freshness you desire.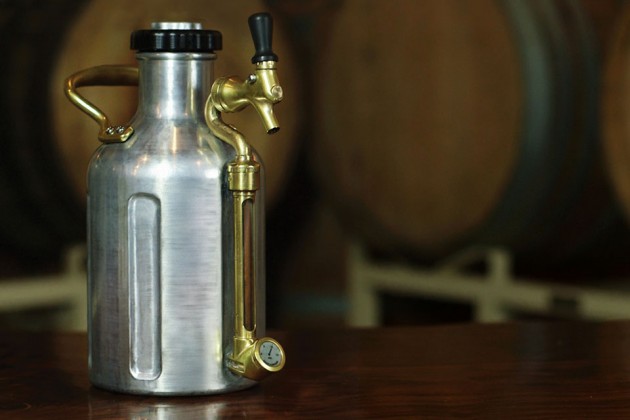 it even has an integrated tap, so you can tap out the drink and dispense with the need of opening the cap that would expose the fresh beer to the surrounding air. a pressure gauge is incorporated to keep the pressure in check, so that you will always be in the know while a sight glass lets you see exactly how much beer you have left. no more peeking into the opening or shaking the growler to judge how much is left, which is pretty damn cool. and then there is a double-wall vacuum insulated construction that keeps the heat out and the content chill all day long on your next picnic or BBQ event, and finally, a sweet handle lets you lug this sophisticated growler around with ease.
not having to guzzle down every drop there and then the next time you crack open a growler is surely a dream come true for any craft beer enthusiasts and uKeg's Kickstarter campaign pretty much reinforced this point. it has 50 days more day to go and the uKeg is already over 230 percent funded with more than 1,400 backers behind it. available in 64 and 128 oz format, the uKeg Pressurized Growler can be yours starting at $99. but be warned it will be quite a wait before it arrives at your doorstep. targeted delivery is May-June 2015. see it in action in the video down below.