when we first saw the Ultima smartphone holder two years ago, it changed our whole perspectives on in-car smartphone holder. fast forward to today, Australia-based singer/designer Nik Conomos is at it again; taking upon himself to better what is already awesome, and the result is an even sleeker in-car mount for smartphone, the Ultima S. predominantly of aluminum construction, the Ultima S employs the proven suction cup as found on the Ultima original, but sports a new metal ball joint, offering smoother and consistent rotating action that will not fade with time.
however, the real star feature of the Ultima S has to be the new, super low-profile sticky pad (as oppose to clamp-style holder on the original model) which is totally capable of keeping virtually any device glued to it until released. in fact, this front patch is so strong that it could hold up the weight and size of an iPad or similar tablet and it works on a variety of surfaces – even on slightly curved or textured back. what we really dig about this in-car mount is, the minimal design that allows the mount to 'disappear' into the background of the device that it is holding up, thereby giving the illusion of a floating device, and when it isn't holding anything, the sleek, minimal design of aluminum construction won't be an eyesore staying stuck to the windscreen.
choose between silver anodized or matte black anodized, the Ultima S in-car mount is available from Kickstarter for an early adopter special of just $45 and shipping is free to Australia, Canada and the U.S.A. hit the jump for the pitch video.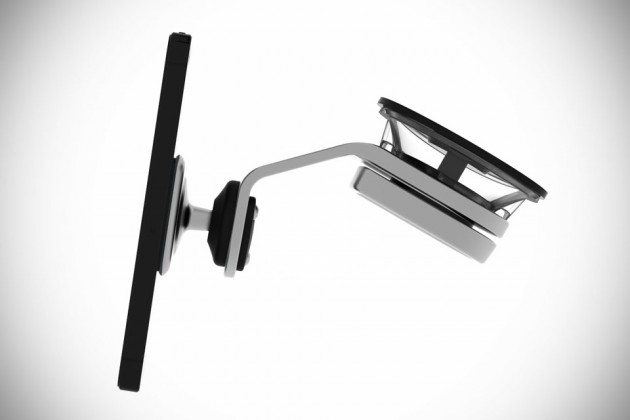 p.s. thanks to Michael of Gear Hungry for sharing and also a huge thanks to Nik for submitting the hat tip.
source: NKMOS
via Gear Hungry