what current electric scooter makers claimed about their vehicles being environmental-friendly is only partially true. it is true for the mobility aspect as it uses electricity as opposed to fossil fuel, but the process of building one, involve materials such as metals, plastics and many other things that could, in one way or another, impact the environment. however, a Netherlands outfit, Van.Eko, is determined to change that with their first electric two-wheeler, the Be.e electric scooter. this new kid on the block has conceived an electric scooter that does without a steel frame. instead, it has a monocoque frame (i.e. body and frame hybrid) made out of Hemp fibers infused with a bio-based resin.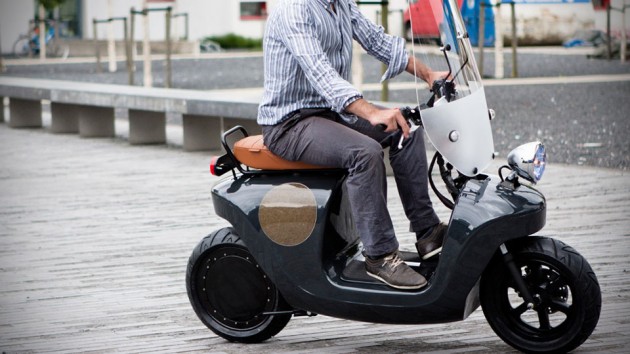 power comes from a 5.5 kW electric hub motor with 100 Nm torque, which has a modest top speed of 36 mph (58 km/h) and a maximum range of 37 miles or 60 km. both figures are nothing to shout about, really, but it is after all, a scooter and it is electric vehicle that weighs in at mere 95 km, so we shouldn't asking for the sky. it sits two, a rider and a pillion, with a payload of not more than 396 lbs (180 kg). the number is there, so whether it can actually ferry two, depends very much on each person's weight. you go do the math. keeping the vehicle juiced is a 48V 50 Ah lithium-ion pack and it has an integrated 600W charger that will pack one battery to full using standard 230V outlet in 4-5 hours.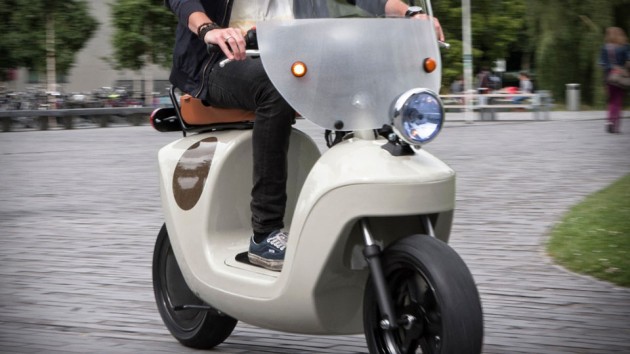 other details include reverse gear (!), LED lighting (except for headlamp, for EU compliance sake, apparently), all-round disc brake, helmet storage compartment, and even has a smartphone holder on the handlebar and a pair of 5V USB port for charging your small gadgets. most importantly, it has a design that could rival the iconic Vespa and if it makes it through to the market, it might very well be an icon itself. so how do you get your hands on one? simple. pledge €4,500 or more on Be.e's Kickstarter campaign and if all goes well by August 18, then you can expect to see one in July 2015.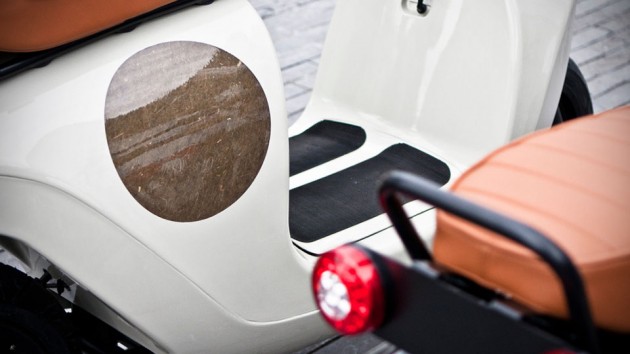 well, that's for international backers. for those residing in The Netherlands, Van.Eko's home turf, you can drop €250 or more to be inducted into an urban sharing program known as "Be.eKeepers", where you get to share the Be.e with some other random backers. the intention of Van.Eko is admirable, but we are not sure how keen are Dutch in this program and on top of that, international buyers have extra hassle to deal with when importing a full-fledge, road-going scooter, especially one that has yet to be proven or not by major makers. as always, the fate of Be.e lies solely in your hands.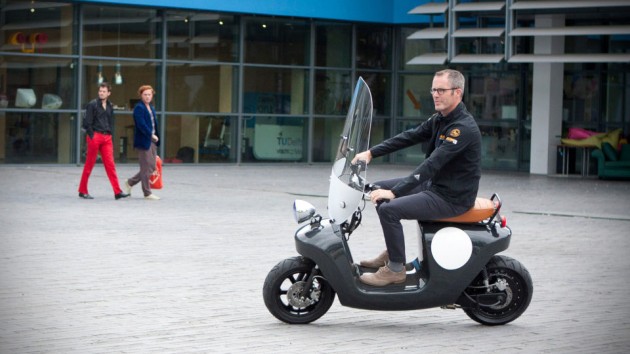 Kickstarter via Gizmag