if you own a LG G3 and dig the idea of VR headset, Vortex VR has the perfect accessory for you: the Vortex VR VRTX I VR Headset, designed exclusively for use with LG G3 Quad HD smartphone. Vortex VR joins hands wit 3D Systems, LG Electronics MobileComm USA, and VR pioneers GameFace Labs, to bring you the world's first consumer Mobile VR solution. so take that Samsung. it looks like LG has beat you to the VR game. the VRTX I is a lightweight VR Mobile phone case that is also a Head Mounted Display, touting 100-degrees field of view and is designed to fit LG's flagship smartphone. here's the thing: little information is available on how this sleek-looking, 3D printed VR set is going to work out with LG G3 – even though it is available now for $99.99.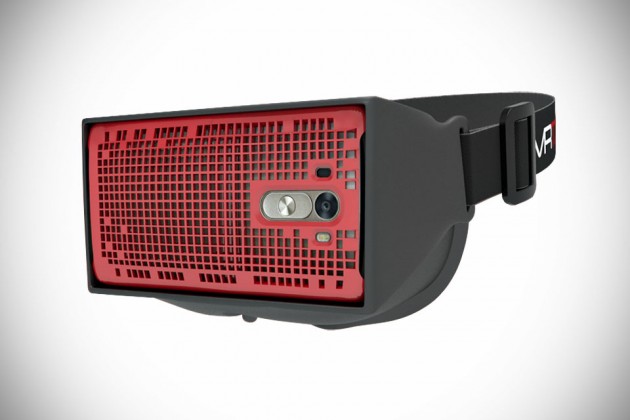 the website is completely void of specifications and descriptions, save for the dimension of the headset. all we know is, the LG G3 will slot into the purposed designed headset and presumably, a dedicate app will take advantage of the smartphone's camera for the VR. though lack of details, the use of LG G3 Quad HD smartphone makes for an exciting proposition as far as VR headset is concerned. having an awesome 2,560 x 1,440 resolution on its 5.5-inch display, the Vortex VR VRTX I VR Headset will boast over 75 percent more pixels than the current horde of VR head-mounted display.
by collaborating with specialists of their respective field, both LG and Vortex VR has, in our humble opinion, created a cost-effective virtual reality solution. one, by riding on the existing smartphone power and technology, thus minimizing the cost of the bulk of the electronics required and also through 3D printing, which banks on both GameFace Labs and 3D Systems' wealth of experience. all these are backed by the trusty and adaptable Android operating system.