I have to be honest. The idea of a Nano Tech Wireless Heated Mug tickles my soft spot. I won't easily succumb to sale pitches, but the idea of having a hot beverage for up to 45 minutes, even in cold weather, certainly had me at hello. Heated mugs aren't new. We have seen USB-powered version, plate warmer type and more, but this one from Green Lama is different. It is has a rechargeable battery that once you get it charged, it can keep your beverage, coffee or whatever, hot for 45 minutes. And when the battery is depleted, just recharge it like you would with any USB-powered gadgets. While the integrated heating element is busy keeping the liquid's temperature to between 145oF and 155oF (63 and 68 in Celsius), the mug's double lined construction with a 1.5mm insulating air gap also aid in slowing down the heat loss.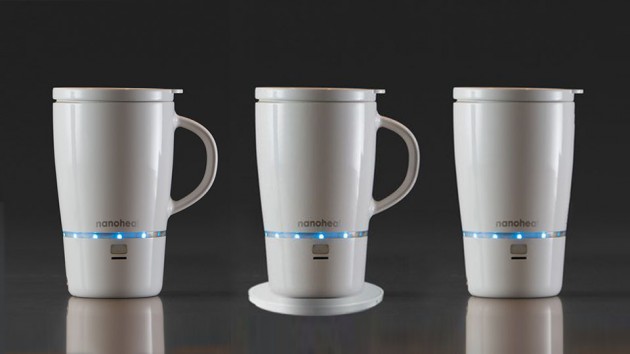 The mug is sized to contain 16 oz (470 ml) of liquid and is made of food grade plastic and stainless steel. A 30 minute timer automatically switch off the heater to conserve battery life. Aesthetically, its minimalistic design is interjected by a light ring which shines blue when switched on. Just under the lighted ring is the on/off switch and an indicator that flashes red when battery goes under 25%. Available with or without handle (aka car-friendly version), the Nano Tech Wireless Heated Mug is seeking $120,000 in funding to take it to production.
A pledge of $34 or more will land you with a mug or $79, if you are up for one that comes standard with wireless charging plate. So yes. It supports wireless charging too, which makes it kind of a high-tech mug. However, those prices are offered to early backers in limited quantity and as always, whether it will see the light of production depends on the eventual funding status. Therefore, If you want the product to materialize, you know what to do.
submitted via TIP US page.