up till now, slapping on an activity tracker on your wrist means sacrificing the ability to tell time right off your wrist, unless you want to be an oddball who has two wrist wearables. some trackers do offer piecemeal of information at a glance and some merely as a device that becomes part of your fashion statement (with tracking, of course). however, French tech product maker Withings begs to differ. it has just introduced a completely new take on activity tracker known as Withings Activité Activity Tracker. at a glance, Activité appears to be an elegant timepiece and a subtle 'Swiss Made' marking reinforced that it is so, but upon closer observation, you will find an unusually large sub-dial not seen on regular chronographs. this sub-dial is the visual cue of your progress over the course of a day.
instead of scrolling through endless information, Withings Activité's dial shows you the overall progress so you know how much you are away from your daily goal and this progress is entirely user-definable via a companion app. basically, Activité takes the concept of 'essential information at a glance' of a watch and puts it into an activity tracker. under the hood, cogs and gears made way for modern electronic circuitry such as accelerometer, a tiny motor for vibration, Bluetooth Low Energy module and more, and on the outside, it has a responsive, scratch-proof sapphire glass that reacts to tapping such as tapping twice to check on the time of the alarm clock (again, definable with the app). like any good timepiece and activity tracker, it is water resistant and in this case, up to 5ATM (or about 50 meters or 164 feet) and is juiced by a CR2025 button cell that could last up to a full year.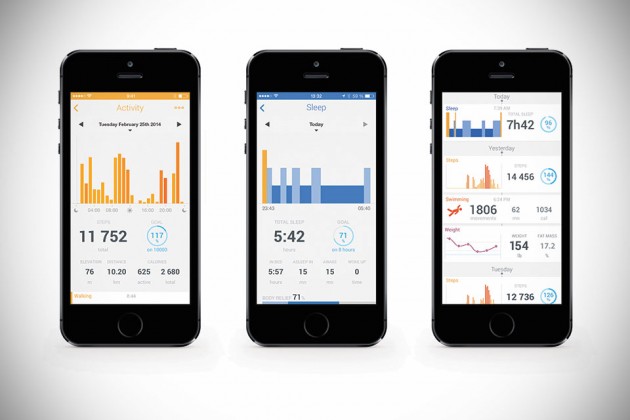 as a watch, it features a Swiss-made 316L stainless steel watch case, a dial designed in Le Locle Village (in Switzerland, naturally), haute-couture finishing on the dial, slim watch hands and an interchangeable strap. the Withings Activité might very well be a solution for those who seeks to track their activity without looking overwhelmingly geeky or simply for those who desires a versatile wearable tech for both formal events and daily wear. seriously, you can't be wearing a Nike Fuel with your tuxe, right? Withings Activité will be available in a choice of black or silver and comes with a matching, naturally tanned French calf leather strap, as well as a plastic strap suitable for activity lifestyle usage. expect the elegant watch-activity tracker hybrid to hit the market this Fall for $390.