Xiaomi is not just a handset maker. It is also the maker of everything under the sun, including some pretty odd gadgets such as this Deerma Multi-function Dryer DEM-GS100. Deerma DEM-GS100 is a 2-in-1 device.
It is hand dryer and it is also a hairdryer. Yup. Believe it. Dyson may have a faucet/hand dryer combo, but now Xiaomi has a hand/hairdryer combo. I am pretty sure the DEM-GS100 is the world's first.
Anyways… as a hand dryer, it has an IR sensor that detects the presence of hand to turn it on/off in 0.2s. The hand dryer is essentially the hairdryer, pointed downwards.
When you need to dry your hair, just pick up the handle that is sticking out awkwardly from the otherwise very sleek cylindrical hand dryer.
Since it is the same blower, whether you are drying your hands or hair, you will benefit from the negative ion air flow.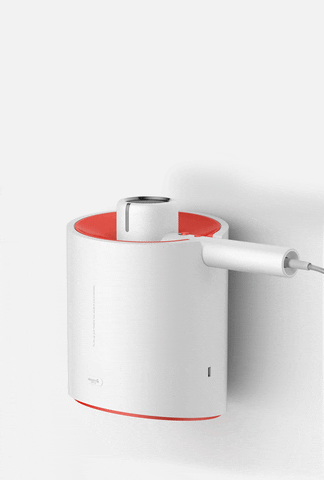 As a hair dryer, it offers 6 levels of wind and heat. The blower features a 6-bladed fan that spins at 26,000 rpm, delivering 14 L/s (3.7 gallon/s) of airflow.
Rounding up the package are 2 USB ports that should come in handy to charge your Xiaomi electric shaver and/or toothbrush. Oh, yes. It has USB ports too!
The Xiaomi Deerma Hand and Hairdryer Hybrid couldn't come at a time when the world is grappling with the onslaught of the novel coronavirus.
But it is not available now, yet. Xiaomi Deerma Hand and Hairdryer Hybrid is running a Xiaomi-hosted crowdfunding campaign on Xiaomi Youpin where it can be secured for just 249 yuan (around U$35).
The campaign has since been 963 percent funded and it has just 9 days left on the calendar. Its arrival is imminent. Xiaomi plans to ship the product starting on May 11, 2020. Keep going for the official product pitch video.
Images: Xiaomi Youpin.
Source: Gizchina.