It has been barely two months since we first read about the BMW Concept M4 GTS and it is now already a concept no more. Yup. That's right. The BMW M4 GTS is a real thing now and it is set to make its world premiere at the 44th Tokyo Motor Show, happening from October 30 to November 8, 2015. The BMW M4 GTS will be offered as a special edition limited to just 700 units and for the first time, it will be made available to the North America market.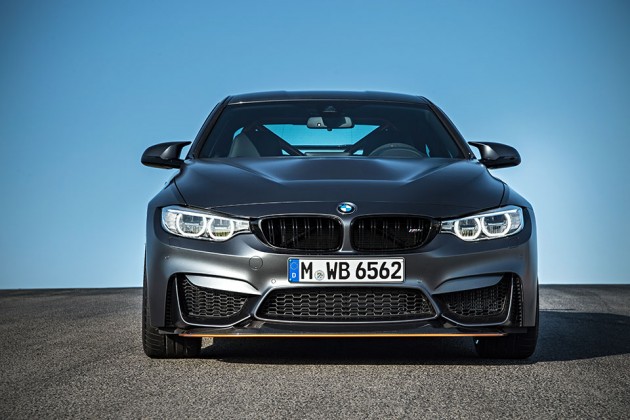 So what makes the M4 GTS ticks? Well, hidden away under the newly designed CFRP hood is the same beastly M4 3L motor but boosted by the Bavaria automaker's water injection technology, which bumps the power output to 500 horses and the torque to 442 lb-ft (600 Nm) – all while maintaining the fuel economy and CO2 emissions of the M4 Coupe. Mated to a seven-speed M Double Clutch Transmission (M DCT), this road-legal, track-ready Beemer makes the century sprint in scant 3.8 seconds and has a limited top speed of 189.5 mph (300 km/h).
The 2016 BMW M4 GTS is not just about brute force; it also touts a lightweight construction consisting of aluminum, carbon fiber and carbon fiber reinforced plastic that help it to shed a couple of hundred pounds off as compared to the Coupe variety. Other worthy highlights include M sport steering wheel, carbon fiber bucket seats wrapped in Alcantara/Merino leather, adjustable front splitter in CFRP, adjustable rear wing, CF diffuser, titanium muffler, tuned-for-M4 GTS adjustable three-way M coilover suspension, forged and polished M light alloy wheels wrapped Michelin Pilot Sport Cup 2 tires (265/35 R19 front, 285/30 R20 rear) and OLED lighting technology.
Oh, it has no rear seats. While it may share similar body form as the M4 Coupe, the 2016 BMW M4 GTS is in fact a two-seater, track-capable variety and so, if you intend to snag this car as your everyday ride, that's one point to take note. Official pricing will be available closer to launch, which should be sometime later this year. Keep going for a few more look.