Something really, really big is heading to The Art of the Brick: DC Comics exhibition in Sydney, Australia and that 'something' is Nathan Sawaya's interpretation of the world most famous caped crime fighter's Batmobile as designed by Jim Lee during a Comic-Con International Panel at SDCC. It took the LEGO maestro three months, including planning, to put together this 18-foot long crime-fighting vehicle that is composed of no less than half a million bricks.
Instead of a blocky creation as one would expect of a LEGO sculpture, CBR, who visited Nathan's workshop, described Nathan's Batmobile as "streamlined, not blocky at all." We can't imagine a LEGO sculpture that won't look at least a little blocky, but then again, with the LEGO-magical touch by Sawaya, anything is LEGO-sible, not im-LEGO-sible, and besides, the bigger the art is, the less blocky it will appear. So, I guess, LEGO bricks are destined for bigger things? Perhaps.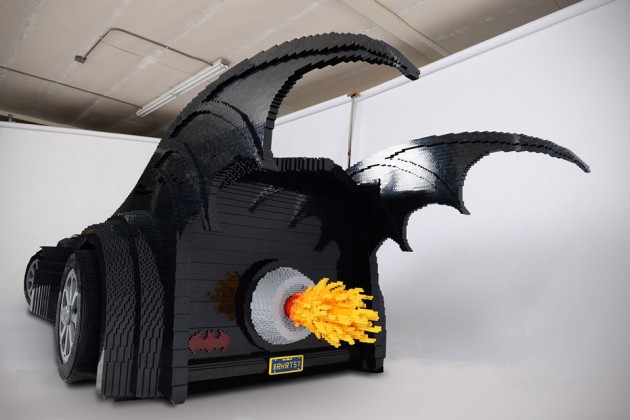 When Nathan's exhibits came to town, I had the opportunity to see the maestro's works for myself and boy, was I impressed, like really, really impressed. That said, I am sure the 120+ sculptures based on the world of DC comics he is going to dish out at the The Art of the Brick: DC Comics will be as meticulous as his other works.
You can catch Nathan's DC comic-based LEGO art at Powerhouse Museum (500 Harris St, Ultimo, NSW 2007), starting from November 21, 2015 through to May 01, 2016. Oh, you will need a ticket for that, which cost around 26 Aussie dollars for grown ups, 16.60 for Junior age 4-16, or you can grab the Family admission for four (2+2, or 1+3) at 64 bucks.
via FBTB