normally, we refrain from pulling too many items from a single auction event so as not to bore you folks but the microcars we found at the upcoming auction at The Bruce Weiner Microcar Museum are simply irresistible and honestly, we'd swept them all off the auction block if money is of no object to us (obviously and unfortunately, that's not the case). anyway, just browsing the Lots is enough to spin our heads dizzy; there are simply way too many awesome microcars that folks with burgeoning bank account can consider raising their hands to. speaking of which, we took the liberty to pick out nine worthy microcars to watch out for and for damn good reasons: these babies are totally mind blowing in terms of design which makes them totally worth collecting – if you have the dough to do so. really.
1974 BOND BUG 700E (Lot 274)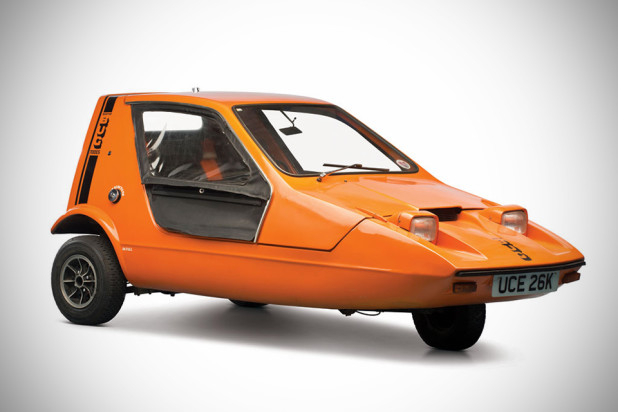 manufactured by Reliant Cars, the 1974 Bond Bug 700E (not a James Bond ride, if that's what you are thinking) is a three-wheeler that were quite rad among the youth of the sixties and early seventies. its wedge-shape body (supposedly an aerodynamic advantage) speaks a lot about the design influence popular at that time. because of its three-wheel design, the 700E is technically a motorcycle in its early days or so we were told but honestly, we view them as more of car since it has a fully enclosed body. under the hood is a 701cc, 4-cylinder 4-stroke OHV motor that offers a decent 30 ponies. other features include a bright tangerine orange paint job (that's the only color available back in its hey days), a super cool aircraft-style lifting canopy for access and an unusual high tech black graphics and aircraft-style instruction decals that details the tire pressure and other vital information of the vehicle. the car was last restored to what you see here in England sometime in the 1990s. the 1974 Bond Bug 700E is expected to fetch between $15,000-$20,000 in the 'offered without reserve' auction.
1961 ISETTA 300 PICKUP – Factory-Built (Lot 244)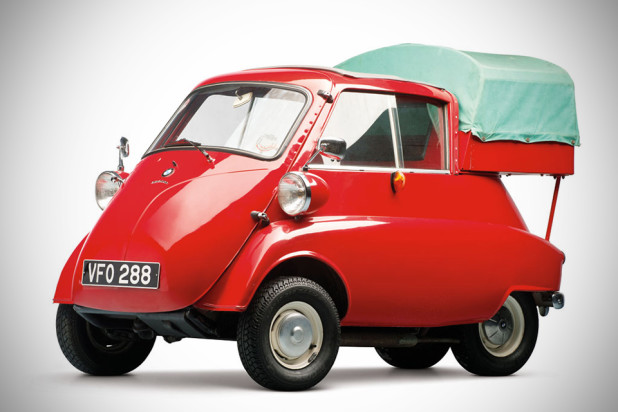 this is probably the unofficial grandaddy of crossover as it was a microcar that was both a passenger car and an utility vehicle. made by Isetta of Great Britain Ltd in the 1960s, this is the only factory-built Isetta pickup known to exist. powered by a small 295cc, single pod 4-stroke motor which churns out 13 horses, the Isetta 300 was more like a coupe with a cute little cargo tray ('tray' because it is so puny that we wouldn't call it a 'bed') stuck its back, just above its engine and it was probably the perfect cross (of that era) between practicality (as far as cargo are concerned) and fun motoring experience of a coupe. other highlights of this bumper-less pickup include a fabric sunroof, a snazzy red paint work, fully operational (though a little underpowered in today's context), front swing door for access – a popular feature of that era and a covered cargo area with up to 165 pounds capacity. the 1961 Isetta 300 Pickup is expected cost between $35,000-$45,000 when it goes under the gavel on the February 15, 2013.
1956 ESHELMAN DELUXE ADULT SPORT CAR (Lot 303)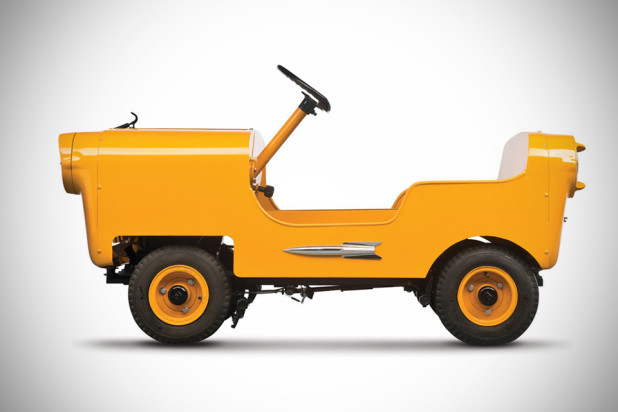 the 1956 Eshelman Deluxe Adult Sport Car is every bit of cartoonish in every given angle but still, it was a sport car worthy of its era (the yellow paint work is so funky!). well, maybe not 'sport' as in 'performance' cos' its 8.5 hp 15.2 cu. in. (about 0.25-liter) air-cooled, single cylinder four-stroker is hardly considered 'sporty' even in its time. made by the Eshelman Motors Co. in Baltimore, Maryland, features include centrifugal clutch system, a single-speed belt drive, four-wheel mechanical paddle brakes, cam-lock parking brake, chrome-plated rocket side trim (awesome touch, we must say), black rubber floor mat, accelerator and brake pedals marked simply as "Stop" and "Go", restored controls including a choke cable and recoil starter and faithfully restored in yellow with matching seat cushion. expect to shell out between $15,000-$20,000 for this when it hits the auction block.
1953 BMA HAZELCAR (Lot 573)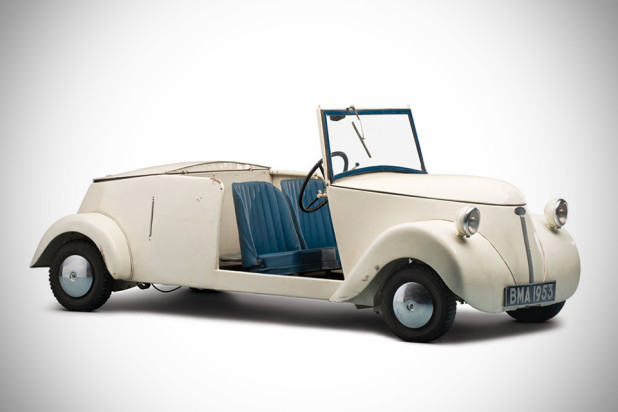 whoever says vintage vehicles are harmful to the environment? the 1953 BMA Hazelcar here is certainly one classic ride that begs to differ: it is an electric car hailed from the 1950s, made by British auto maker, Gates and Hazeldine. unbelievable? yeah. we too find it rather perplexing. anyway but being a vintage 'green car', don't expect fantastic figures – the electric drive only yields 1.5 hp, fed by nine 6-volt batteries nested under the front hood. drive was offered by a double-reduction chain from a four-speed gearbox with a switch-operated reverse. despite its near non-existence power output, it is capable of 20 mph (32 km/h) and a have a 60 miles (97 km) range. however, age might have caught up with the Hazelcar, and hence, those figures might not stand today but still, we adore its stretched wheelbase and its very 'gangster squad' look (albeit without a roof). definitely makes a great collectible or for further restoration. expected value of the 1953 BMA Hazelcar is around $5,000-$10,000.
1960 McDONOUGH BUCKBOARD (Lot 579)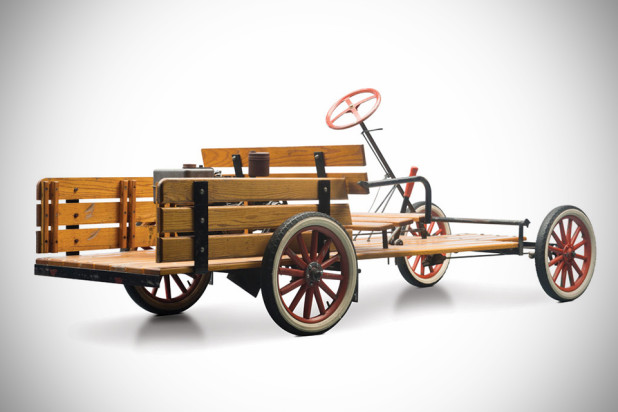 seriously, if we had a farm, the 1960 McDonough Buckboard would be our hay and tools transporter of choice anytime. made by McDonough Power Equipment, the Buckboard is powered by a basic 3 hp Briggs & Stratton single cylinder motor and was originally sold as a kit (!) via mail order (i.e. the predecessor of online shopping) to be assembled by the buyers. so as you would have imagined, the working principle was pretty simple and as such, it was the choice workhorse of farmers and might just prove to be as useful even in today's modern farm. the 1960 McDonough Buckboard is expected fetch around $10,000-$15,000 at the The Bruce Weiner Microcar Museum auction on the February 16, 2013.
1959 BMW ISETTA "WHATTA DRAG" (Lot 584)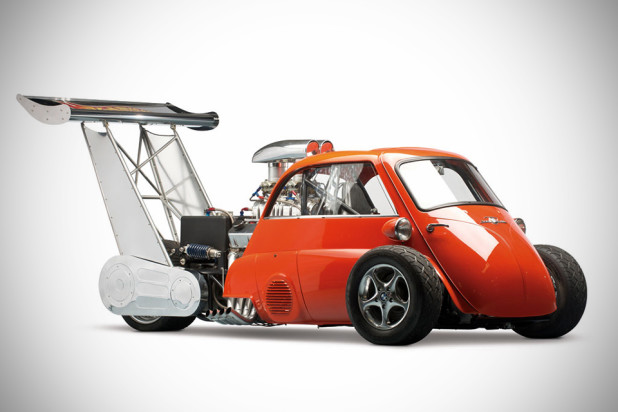 if one-of-the-kind track car is what you after, then you shouldn't overlook the 1959 BMW Isetta "Whatta Drag" drag car. powered by an impressive 502 cu. in. (8.2 liters) Supercharged Chevrolet "big block" V8 motor that spits out a pretty insane 730 hp, this is one microcar that shouldn't be belittled. based on a heavily modified BMW Isetta, this perfect example retains the bubble car front end while its exposed motor is plumped by twin Holley 750 CFM double pumper carburetors, Zoomies exhaust headers that are rigged to spit out flames four feet out of its tail pipes and mated a two-speed manual gearbox. other goodies include suspension borrowed from a Beemer M3, chromed-out five-spoke front rolling stocks wrapped in B.F. Goodrich G-Force rubbers, a lone 18-inch custom drag wheel at the rear shod in Sumitomo HTRZ II tire, a dual circuit disc brake system with AP balance bar, polished belt covers and tubular lattice for the spoiler and a quick-release racing steering wheel hub. the particular example is not exactly a blast from the past but is a faithful rebuilt of the glorious Whatta Drag and is one of the only four Hot Wheels models to have been built into a real, functional car. we think this will be one of the hottest item in the entire auction and therefore, we are not entirely surprised by its projected price tag of around $75,000-$100,000.
1951 REYONNAH (Lot 594)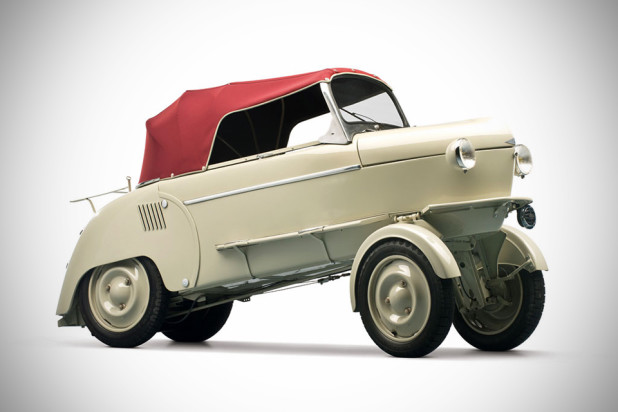 it is possible that the 1951 Reyonnah was the world's first 'collapsible' car. well, it don't exactly folds into a small package but it does have an ingenious features that allows the front wheels to fold up under the vehicle, thereby reducing its width and allowing it to moved through tight passages such as a garden gate, courtyard doorway and off the street where parkings were a premium after the war. it has lightweight nose whereby you can lift it up easily and witness the front wheels collapsing together on their own accord and thus, reducing the vehicle overall width. powering the Reyonnah (a model name taken after its inventor's name, Robert Hannoyer, spelt backwards) is a single pod, four stroker motor with displacement of 175cc and a humble 8.5 hp power output. it is said that with the wheels tucked underneath, it has a width measuring just 29 inches (about 74 centimeters). other features include fully enclosed rear wheel, elegant helmet-style front fenders, exposed-tube aircraft-type front seat, radially-slotted wheels, a tonneau cover roof and painstakingly restored by the museum itself. the 1951 Reyonnah is estimated to cost between $75,000-$100,000.
1946 AVOLETTE RECORD DELUXE (Lot 642)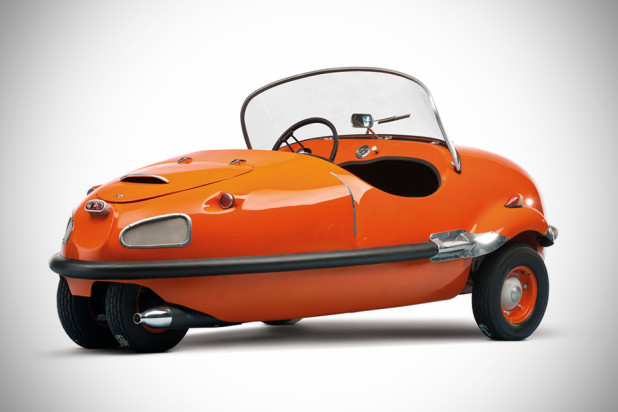 another oddity, but nonetheless desirable, on the block is the 1956 Avolette Record Deluxe. this beautiful twin-rear wheeled, three-wheeled vehicle was made by French firm, Sté. Air Tourist (under license from Egon Brütsch) in the 1950s and is fitted with a powerful engine of its time, a 250cc Maico single cylinder two-stroke motor that puts out 14 horses. the Deluxe model was the "speed model" (you could say it was the top-of-the-line model back then) of its time and features a three-wheel vehicle geometry but with twin rear wheels for the added stability. it was restored by the museum to its original orange hue and is the one of the most powerful versions of the Avolette known to exist today. expected going price of the 1956 Avolette Record Deluxe is about $45,000-$55,000 when it hits the auction block in an 'offered without reserved' auction on the February 16, 2013.
1946 LARMAR (Lot 642)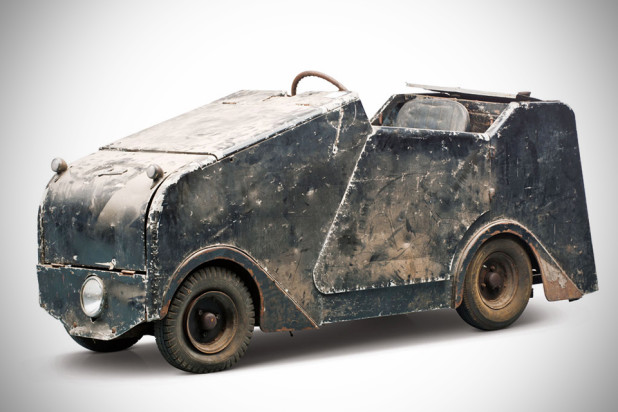 which, the 1946 Larmar is one classic on the auction block that you will need to get down and put in some works into it. its visibly 'thrashed' condition aside, this vehicle does have its merits to warrant for a good makeover and who knows, it might be the ride that you will love to go grocery shopping with in this jam-pack urban traffic. the Larmar claimed the crowd of being the narrowest car in history with just two feet four inches across. with such a slender width, it can easily pass through a standard garden gate or narrow alleys. highlights include extra-wide doors (albeit, one with missing skin), low sill height, interchangeable controls, generous large cargo space, easy hand-starting, a tight 15-foot (4.6 meters) turning circle, four-wheel independent suspension with large coils up front and torque tubes with quarter elliptic springs back rear, full folding top, side screens, and a unique 'Cyclops' headlamp (i.e. only one headlight, just like motorcycles). this particular example is not something that you would push straight into your private showroom, cos it is pretty obvious that it will need some work before you could show it off and hence, it is only expected to fetch between $3,000-$5,000.