this year's Mobile World Congress is a few days away, but ARCHOS can't wait to let you in on some of the good stuff they will be lugging along to Barcelona. the lineup, as of now, includes one tablet and three new handsets. kicking of the lineup is the ARCHOS 80 Helium, an 8-inch 4G tablet costing under $250 and packs a 1.2GHz Qualcomm MSM8926 quad-core chip, 1GB RAM, 8-inch IPS display with 1,024 x 768 pixels, 4GB onboard storage, expandable storage up to 64GB via microSD card slot, Full HD video playback, GPS and A-GPS, and of course, 4G LTE radios.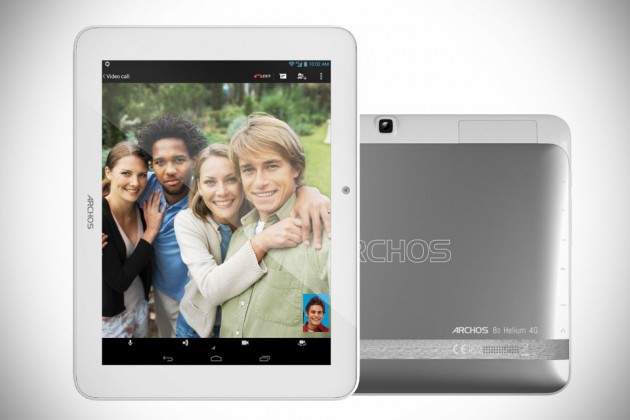 the first of three handsets (also happens to be the one that really catches our eyes) is the ARCHOS 50c Oxygen, featuring a 5-inch HD IPS display and powered by a MediaTek MT6592 octa-core processor, clocking in at 1.7GHz. other notable features on the 50c Oxygen includes a GB RAM, 8GB internal storage – expandable with microSD card, dual SIM support, a 2,000 mAh li-ion battery, built-in FM radio, a 8MP AF BSI main camera with LED flash, a 2MP front-facing camera and support for HSPA+ 21Mbps data. next is the ARCHOS 64 Xenon, a massive 6.4-inch handset with HD IPS display and driven by a 1.3GHz quad-core chip from MediaTek (MT6582). it has 1GB of RAM, 4GB internal storage, microSD card support, dual SIM support, a lithium-ion battery packing 2,800 mAh, HSPA+ support, a 8MP AF camera and a 2MP front-facing item.
last but not the least is a new addition to the Titanium handset family, the ARCHOS 40b Titanium that sits between the 40 and the 45 Titanium. ARCHOS is touting the 40b as the music device with enhanced audio system and 'sleekly' integrated dual front-facing speakers for "crystal clear and pure stereo sound." it is powered by a modest 1.3GHz dual-core chip (MT6572), a 4″ IPS display with just 800 by 400 pixels, half a gig RAM, 4GB storage, microSD card support, a 5MP AF camera with LED flash plus a VGA variety up front, and a 1,400 mAh battery. like the previous two announced, HSPA+ is the best it could do. specs have never been the pushing point of ARCHOS device; decent for most of them, i would say, but the key element here is price-vs-spec, with the 50c Oxygen and the 64 Xenon expected to go for $199.99 each, while the 40b Titanium at just $119.
interestingly, none of them will be running on KitKat; the handsets are all running off Android 4.2 and the Helium 4G tablet has Android 4.3 pre-installed. ARCHOS has more to show at the MWC. you can find the full suite of ARCHOS products at Hall 1, Booth 1F20 at Fira Gran Via in Barcelona, Spain. the dates would be from February 24 to 27.