Danish audio and visual equipment maker Bang & Olufsen and bespoke bags and accessories maker Hard Graft have come together to create a trio of beautiful accessories to complement B&O's personal audio gears. the B&O Play Headphones Accessories By Hard Graft include a headphone case/stand known as the 'Peak Headphone Case', an earphone case/cable tidy referred to as 'Point Earphone Case' and Pinch, a headphone cable tidy. there is something particularly alluring when you combine Hard Graft signature vegetable tanned leather with B&O's sleek hardware. kicking off the trio is the Peak, a headphone case that doubles as a handy stand for your B&O BeoPlay H6 audio cans. the case measures 31 cm x 31 cm x 3.5 cm and can swallow up the H6 with ease.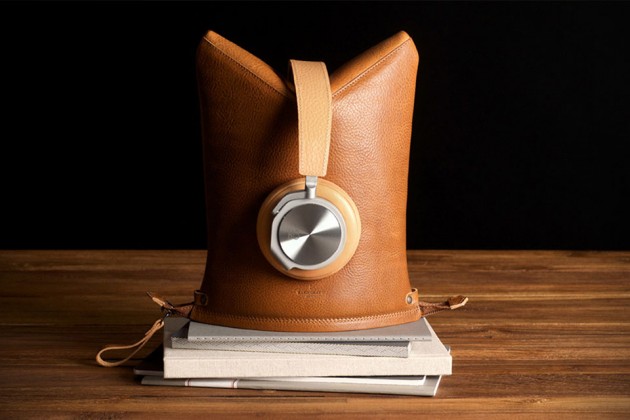 on the inside, it is lined with cotton lining to keep your precious audio cans scratch-free and cosy, while a scratch-free nylon zipper ensures that what's inside, stays inside. the bag, sorry, i mean the case, it large enough to accommodate a pair of BeoPlay H6 headphones and still have room for a notepad or perhaps a small tablet. when you are not traveling with the audio cans, the Peak can be transformed into a stand to display the headphones and be ready for instant use. up next is the Point, which is a super cool, pyramid-shaped case for your BeoPlay H3 audio earbuds. described as 'fortune cookie'-like, which don't quite concur, the Point offers a nice cosy resting place lined with wool felt for the earbuds of your Beoplay H3, though the rest of the cable will have to be coil around the leather 'fortune cookie'. honestly, we don't think that's the best way, but that's just us.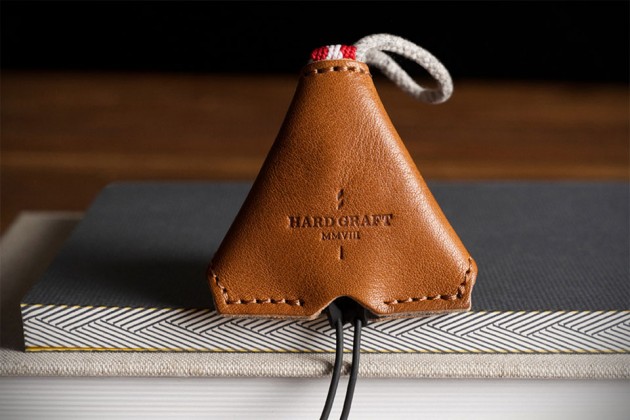 last but not the least is the Pinch, which is a simple and elegant leather cable tidy and hanging system for your Form 2i headphones. this nifty leather goods is lined with Hard Graft's signature wool felt and provides your Form 2i with two functionalities: manage the long cord by coiling around it, plus hanging the headphones, turning it into one neat package that you can hang on the wall. the B&O Play Headphones Accessories By Hard Graft are coming soon, which means prices are yet to be announced. in the mean time, treat yourself to more images in this post, as well as scroll down for a few videos of these beautiful leather goods in action with B&O hardware, of course.