Sweeping or vacuuming and mopping are two must dos if you want a truly clean floor. Up to this point, it has to be done either with the good'ol broom and dustpan, or vacuum cleaner and separate mopping device. But one company, Behow, thinks it could do better with a new kind of cleaning equipment.
It's called WYPE. It is neither a broom nor a vacuum, but it cleans the floor and mops too – all with a couple of motions. It is a radical concept that need sometime getting use to. I took me a week to adapt to this new way of floor cleaning.
Over the past one week, I have put it through its paces and so far, it works as advertised, but not without some cons. One thing I am sure is, if you hate the must do dual processes and also don't trust robot vacuum to do the job for you, Behow WYPE might be it.
How It Works:
Instead of using regular old bristle brush, WYPE uses an absorbent polymer roller that sticks up dirt and debris. A scrapper of sort on the inside scraps out whatever the roller picks up and deposit them into the built in container. It is really that simple.
It is powered. The power drives forth the roller and so, there's basically no effort on your part except to direct it and also pulling back for the mopping action.
The Magic
Much like a vacuum cleaner, WYPE uses push-pull action. However, instead suction, pushing "sweeps" up the debris while pulling back initiates the mopping action. You could say you are sweeping and mopping in one motion.
With regular mops, you will need to rinse it in water and wring it. But with WYPE it has a self cleaning feature. All you need to do is to dock the device to the include docking base.
This base is also where you will find the clean water which you will have top up. Once docked, just hit the self-cleaning button on the device itself and voila, a minute or so later, the polymer roller is cleaned and debris collected are flushed out of the device. Well, most of it anyways.
The dock has a strainer that collects the physical debris while letting dirty water passes into a waste water tank. The caveat is, the waste water tank gets full in just two cycles of self-cleaning. Not sure if this is only with my review unit.
Anywho… a warning light will light at the corner of docking base and until you empty the waste water tank, it cannot carry out self-cleaning. The docking base also charges the device while it is docked.
The Built:
The build is good. Nothing loose or flimsy. We can see that Behow has employed quality plastic and aluminum in the construction. So build quality, as far as out unit goes, is solid.
How It Was Tested:
We tested it on two kind of hard surfaces: epoxy treated raw concrete floor and vinyl tiled floor, and under two conditions: everyday condition and on a floor after some drilling on the concrete walls.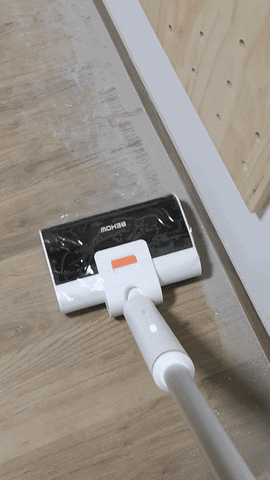 As you can see, it did the job pretty well. Considering the amount of dust was present, WYPE managed to pick up most of the super fine dust. If it can deal with this amount of fine dust, I am confident it can handle almost everything.
Verdict:
It works as advertised. However, how clean it is, it really depends on the type of surfaces. There are times you may have to do more than one pass.
So what's our thought on this new kind of cleaning device? Honestly, I actually find it a pretty good in-between cleaning device for times when I do not want to vacuum and mop. It does the job quickly.
I mean, it is nice not have to go through the same area twice (once for vacuuming and another time for mopping). It does save me a load of time.
However, the limited capacity of the waste water tank leaves much to be desired. It can be hassle when it has to be emptied every two cleaning cycles. Then again, I do find that there's no need to put it on cleaning cycle every time.
Pros: 100% time saver, easy to handle, long lasting battery, very affordable
Cons: Can't handle hair well (like any vacuums!), lack of removable waste bin, runs the risk of a runaway device
You can pick up the Behow WYPE Hybrid Sweeping and Mopping device on Kickstarter for as low as 1,310 HKD, or about US$170.
The campaign is funded and so, all there's left to do now is for the Behow to deliver the products to backers sometime in September 2020.
All images by Mikeshouts.com.