French luxury watch maker Bell & Ross has come a long way. it has, in 2011, transit successfully from the air to the land through a special collab Harley-Davidson cruiser and since then, it is associated with both aviation and high-speed motorcycle. complementing its second motorcycle collaboration with Shaw Speed & Custom which have featured recently, is this pair of watches, aptly named BR01 and BR03 B-Rocket. interestingly, the B-Rocket watches are designed after the bike was conceptualized and as expected, the duo features designs that are closely linked to the B-Rocket. kicking off the duo is the 46mm BR01, sporting a large minutes counter, a tachymetric scale on the outer edge of the dial for measuring short periods of time, and three additional counters which provide further information: a 60-second, 30-minute and 12-hour counter.
at a push of a button, a red push-button made of steel with polycarbonate-ABS protective cover, activates the small second counter, "replicating the graphic display used in experimental vehicle testing." the BR03, on the other hand, may have a smaller 42mm, but is a little more on the elaborate side. under the skin, it is fitted with two complications and features a large data window and a power-reserve indicator. it also sports a sub-dial with cut-outs that reveals the discs operating the large date window and while it does not offer any practical functionality (with respect to the cut-out) it does, however, provide quite an eye-candy. hints of the racing-timepiece relation are all over the watches, including the circular power-reserve counter that subtly replicates the fuel gauge as found on racing motorcycles or cars, while specifics that emphasized the link with the concept bike can be seen in the use of a red triangle for the 12 o'clock mark, echoing the triangle seen on the B-Rocket's tachometer and turbines, as well as the padded black leather strap with red edging and black heavy-duty canvas, fashioned after the concept bike's seat.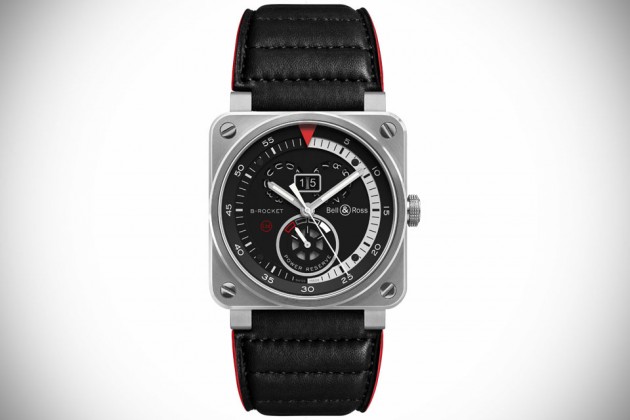 additionally, both timepiece boasts a matte black dial face with graphic display that mimics the tachometer on motorcycle, car, and aircraft, while photo-luminescent coating on the skeletonized hours and minutes hands further enhances the readability. other common details include self-winding Swiss mechanical movement, satin brushed steel cases, anti-reflective sapphire crystal, and water resistance to 100 meters (330 feet). no word on the availability, neither was the pricing announced. however, we are bracing ourselves for a bomb.