What happen to your old working hard drive when you replaced it? You get a hard drive enclosure and keep it as handy backup or start with a clean slate for use as an external drive. That's the norm. And now, a startup with a rather intriguing name, Enlighten Today, wants to do the same to phone batteries with a product called Batter Re (bat.ter.y, get it?) that will turn used phone batteries into portable battery packs. Why in the world would anyone wants to do that, you ask? For starter, you get to own a portable battery at a bargain price; all you have to do is to supply the phone batteries. In addition, you will also be helping to reduce another piece of hazardous waste that would otherwise end up in landfills. Well, may not quite actually reducing, but more like delaying the effect by maximizing what has been made before condemning it.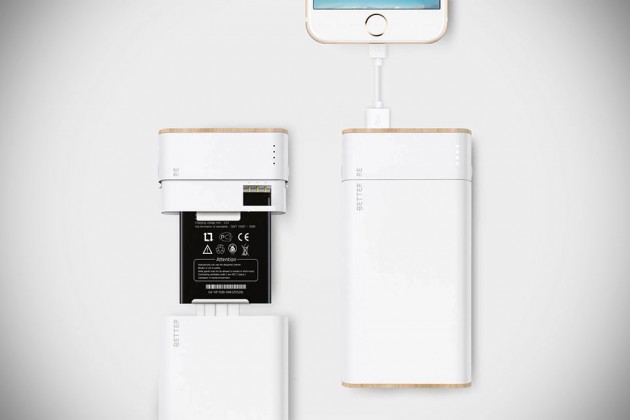 Also, you won't need to buy another juice pack again for as long as you have used phone batteries to feed it. If a phone battery outlives its usefulness, you can simply slot another in it and voila! 'another' portable power is born. The accessory, which we shall refer to as enclosure for simplicity sake, is designed to be expandable and can accommodate virtually any battery in the market today. In case you have more phone batteries lying around, you can opt for the expansion module, which will allow another phone battery-equipped Batter Re to be stacked for expanded power source.
If it works as advertised, then we'd say it is an ingenious solution to a growing problem for the environment and consumers, plus it is aesthetically appealing too – thanks to the aluminum and wood construction. However, 'brilliant' is true only if you have used phone batteries. That said, if don't have one, Enlighten Today will gladly send you one for a fee of $10 on top of the $39 it is asking for the enclosure on its Kickstarter campaign. Scroll down for a short pitch video to learn more.