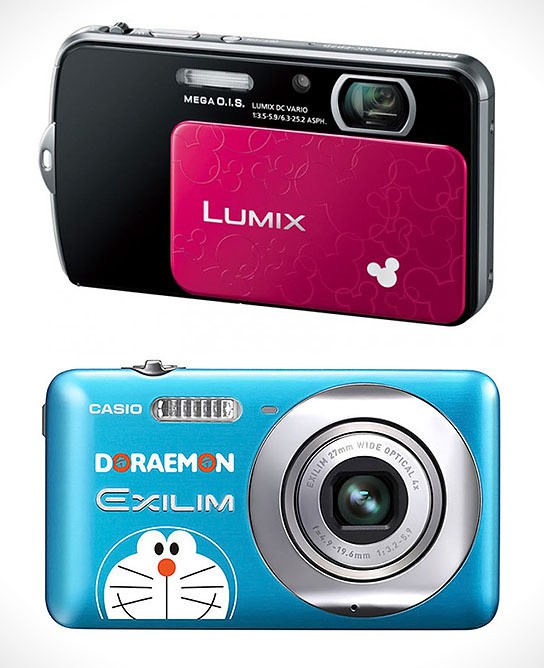 (image credit: Casio/Panasonic)
the run-of-the-mill camera can be quite uninspiring. you know, the silver or black chassis and all? to beat that uninspiring syndrome, you can either fork out a large chunk of your dough for an upmarket camera like the Leica V-Lux 30 or you could take the cuter route with a more 'normal' price tag. if the latter route is your choice, then you are in luck. here are a pair of cartoon-themed digital camera for your reference.
[ad#Google Adsense-text-468×60]
first up, is the Japan-only Panasonic LUMIX Disney camera which is essentially the LUMIX DMC-FP7 with a surprisingly subtle touch of Disney flavor to it. aside from its model code (DMC-FP7D, where 'D' indicates it is Disney edition), the only visual clue in this all-black camera is the contrasting reddish-pink lens cover that sports the iconic Mickey silhouette in white and the outline of Mickey's silhouette all over it. the DMC-FP7 features a 16 megapixels CCD sensor, video recording with up to 1,280 x 720 resolution at 24 frames per second (fps), a 3.5-inch TFT display and touch control user-interface. the camera also features Mickey Mouse boot up and shutdown screens, icons and Disney-themed photo frame effect. the Panasonic LUMIX Disney camera is available from today (in Japan, where else?) for around $370 a pop.
next up is the limited edition Doraemon-themed Casio EXILIM EX-Z800. not much technical specs are made known at this point but this 14.1 megapixel camera's Doraemon-blue chassis plus the image of the Doraemon at the camera's front should be a dead give-away that this isn't your ordinary Casio point-and-shoot camera. the no-fingers blue/white cartoon character also graces the boot up and shutdown screens, as well as in your photos if you choose to include him. the Doraemon Casio EXILIM EX-Z800 is slated for release this August and will cost around $365.
so there you have it, a duo of cartoon-themed point-and-shoot camera. though, i would prefer if its Evangelion-themed and it should do better than just print-on visual cue. maybe a non-rectangular shape camera for a start? perhaps i am asking too much, eh? perhaps.
via GeekAlerts / CrunchGear