Another year, another collaboration between luxury performance car tuner Mercedes-AMG and performance boat maker Cigarette Racing Team. Unveiled at the Miami International Boat Show over the weekend, the Cigarette Racing Team 41' SD GT3 is inspired by Mercedes-AMG GT3 race car and is touted as the "most power 'open performance' boat to ever come out of Cigarette Racing Team's yard. As before, this water-going GT3 borrows several elements from the land-going GT3, including colorway, design, and fittings.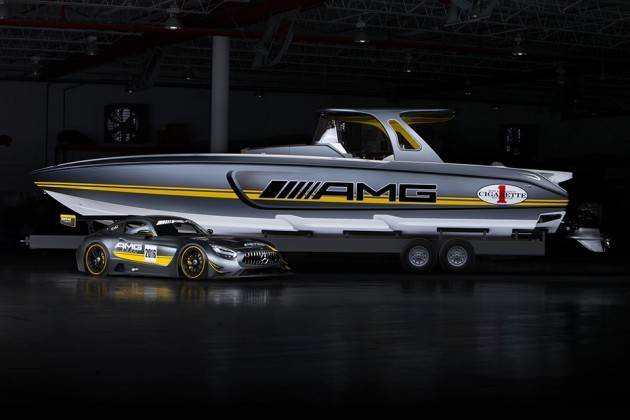 Powered by a pair of Mercury Racing 1,100 HP high-performance motors mated to a NXT6 Drives, this 41 footer's sleek hull is able to tear up the water at an exhilarating 100 miles an hour (86.9 knots, or 160.9 km/h). However, power is not everything it has to offer. It also boasts a handcrafted interior and exterior, featuring matte components, teak wood flooring, a patented 180-degree panoramic hardtop, and for the added touch sea-faring luxury, full extreme marine-grade leather interior designed by Gorden Wagener, head of Daimler AG design division, and his team.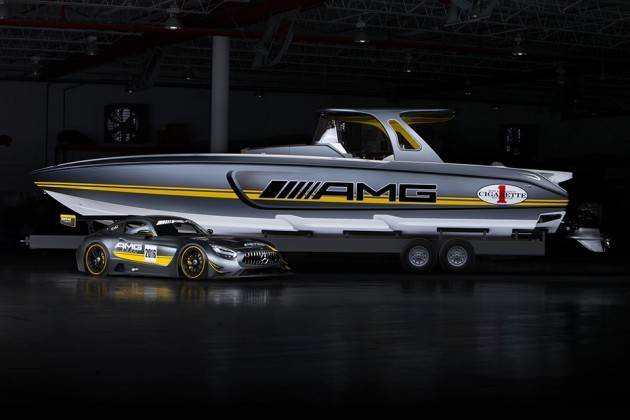 This 22,500 lbs speed demon of the water also features state-of-the-art equipment, including an UI that leverages on Bluetooth technology, computerized controls, a trio of HD 17-inch displays, and the next-gen integration of Garmin and Cigarette navigation, as well as JL premium audio system. Boat-loving richie rich will be glad to know that the Cigarette Racing Team 41' SD GT3 is not concept; it is available for your taking, but the price is only available upon request. Our guts say that it will cross over a million, given that this boat is one-of-a-kind from Cigarette Racing Team.