what you see here is not Tony Stark's Suitcase Armor (though we hope it was one). this is CyberPowerPC Fang Battle Box Gaming PC, which is clearly one gaming PC that's designed with avid LAN parties goers in mind. showcased at the 2014 International CES, the Fang Battle Box is essentially a Fang gaming system from CyberPowerPC's arsenal, but designed with mobility in mind, as hinted, in a not subtly way, by its suitcase-like chassis. we got to say the red LEDs does play a part in the irresistible attraction. under the hood, it has a fourth generation Intel Core i7 4770K processor with 16GB of G.Skill RAM to take care of the clockwork, while a GeForce GTX 780 Ti graphics card sees to the graphics duties.
other highlights include mini ITX motherboard, Corsair all-in-one water cooling loop, a 120GB SSD paired to a 1TB hard drive, and finally, a Corsair CX500 power supply ensures this sleek gaming rig gets its necessary electrons. we love how it has the briefcase styling, complete with a convenient carrying handle for true portability and whenever you feel the need to tinker with the components, just lay the rig on its side and flip it open like you would for a briefcase. there just one question remains in our list: just how much does this badass rig weighs? or perhaps, it does not really matter if you are just lugging it to your pal's pad for a LAN session, eh?
if only it could be trimmed down its fat a little, then it would be the perfect carry-with-you gaming rig. nevertheless, it is still a machine worthy of consideration if you live by LAN parties. however, there's no word on both the pricing and the availability. for now, you might want to check out the video below to learn more.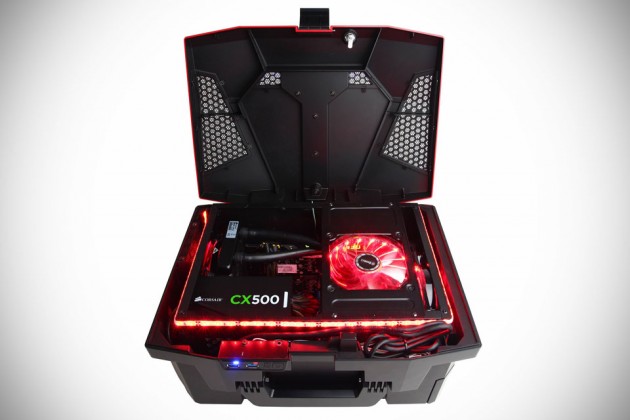 YouTube via Maximum PC