true wireless in-ear headphones are a rarity. when we say 'wireless', it means wireless, as in no cords in between the two earbuds or whatsoever. so far, we can only think of one and that's The Dash which, though awesome, is pretty pricey. that said, the option seems far and few between, but if such tiny audio reproduction devices is what you after, Sweden's Earin might just be right up your alley and the real kicker here is, it won't rob you of your fortune. at $99 (about US$168), it is considerably affordable, but don't go around expecting 'smart' features like The Dash has to offer. the Earin wireless in-ear headphones is basically just earphones that does without the wires. they are really tiny. about the size of earplugs for hearing protection, which makes this, if materialized, an amazing technological feat.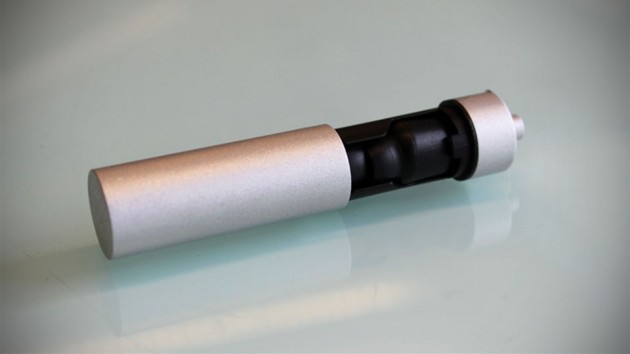 packed into each earbud is balanced armature speaker (Knowles SR-Siren, for the geeks) that pushes out the best possible sound possible while keeping power consumption down, plus a minuscule rechargeable lithium-ion battery, offering up to three hours of playback. there is, of course, Bluetooth technology featuring BlueCore5 with aptX, to ensure best wireless audio is transmitted to the tiny duo. the earbuds are IP54 rated, which means they are protected, albeit limited, against dust ingress and water splash from any directions. honestly, three hours of battery life is anything but impressive and being this small means the Earin also faces the issue of easily misplaced. the folks behind Earin has an elegant solution in the form of a compact tube that will resolves the aforementioned 'issues'.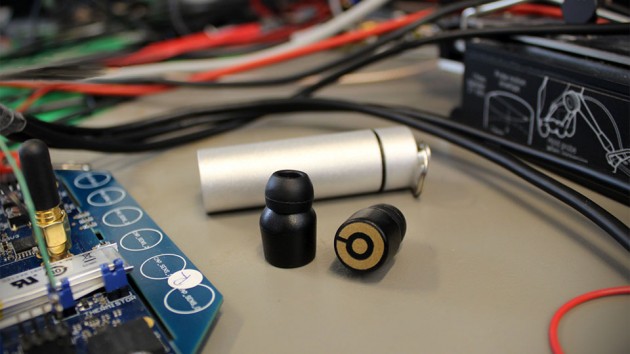 the capsule stores and protects the Earin when not in use and while the duo is in there, it also recharges them using its own battery. that said, it also means you ought to remember to juice up that little tube before you hit the road, else you'd face a music-less journey. the Earin wireless in-ear headphones come packaged with the tiny duo, the said tube, three sizes of foam tips, USB charging cable, as well as a set of little things called 'Concha lock' that are designed to keep the earbuds lock in place for active lifestyle users. the project is on Kickstarter, but rest assure that this product will see fruition as it has well surpass its set funding goal of £179K. so if you are enamor by near invisible earphones, then head on down to Earin's Kickstarter page and pledge your support.
the special price of £99 (US$168) won't be around forever; it is limited to 2,000 units, after which, it will set you back at £119 (about US$202) a pair. still, that price is a good 40 quid cheaper than its eventual retail price. oh, btw, the people behind Earin are former Sony Ericsson and Nokia engineers who sure knows a thing or two about making wireless audio. well, just in case you need some reassurance.
Earin via The Awesomer