Ferrari, like Porsche, is not quite out-of-reach for the elite capitalists, but if you wish to stand out from your elite peers, or just to look good the next time you happen to appear in Upscale Living magazine, then the Italian luxury sports car maker Ferrari has just the ride for you and that limited edition ride is called Ferrari 458 Speciale A spider, the open-top variety to the Speciale coupe and the 'A' here stands for "Aperta", which is Italian for "open". premiered in a unique three-layer yellow paintwork with a blue and white racing strip running centrally across the length of the convertible, the Ferrari 458 Speciale A will be making its world debut at the 2014 Paris Mondial De L'Automobile aka Paris Motor Show, happening between October 4 and 19, 2014.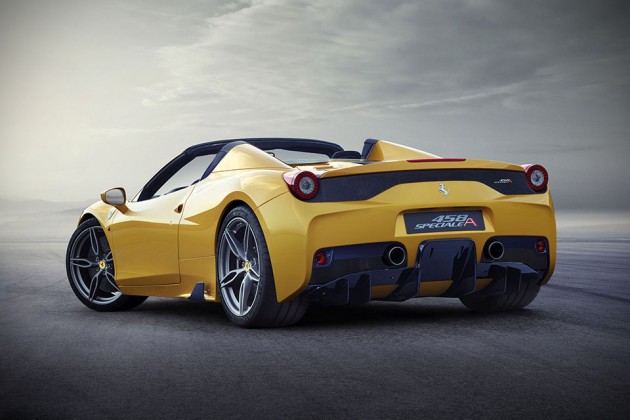 so what's the deal with the Speciale A spider? for starter, it is powered by the most powerful naturally-aspirated road-going V8 (mid-mounted, naturally), a 4,497cc unit that puts out 596 horses and 398 lb-ft (450 Nm) peak torque, Ferrari has ever built which effectively makes it the most power spider to roll out of the Prancing Horse's stable. for the uninitiated, that particular power plant was awarded with no less than three international Best Performance Engine titles and are appropriately announced with a special plague in the cockpit of the Speciale A.
speaking of the cockpit, it is decidedly race-inspired with lightweight and exclusive materials as turned out by Ferrari expert artisans and boast features like blue carbon-fiber on the dash, molded door panels and central tunnel, and newly designed seats clad in Alcantara with contrasting stitching and 3D technical fabric. encapsulating the cockpit is an beautiful body, which incorporates an aluminum retractable hard top that retracts and deploys in a matter of 14 seconds, and this folding hard top also attributes a 110 lbs (50 kg) weigh reduction over the coupe variant.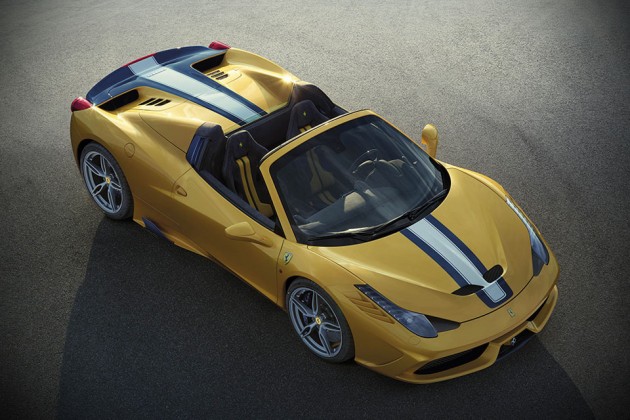 the stunning form, which rides on a set of five-spoke forged wheels in racing gray, is not the result of mere vanity; it is the result of a series of innovative and original bodywork solutions, which the Italian automaker claimed as the most aerodynamically efficient Ferrari spider ever. the high strung petrol unit is paired to a standard seven-speed dual-clutch automatic gearbox with paddle shifter and together with a rigid chassis incorporating 10 aluminum alloys and Side Slip Angle Control, enables this drop-top beauty to rocket from naught to 62 miles an hour (100 km/h) in a scant 3 seconds – faster than you can finish reading this post title.
only 499 of this fine steeds will be produced, with pricing yet to be announced. though so, at the bottom of your heart, you already know it is going to cost quite a serious damage to your bank account, don't you? steal a few more look after the break.