The world is surely not lacking of petrolheads with boatloads of cash to spare. First, we read about the Jaguar XKSS continuation model flying off the showroom without it actually hitting the showroom floor, and now the same has happened to Ferrari's droptop version of its hybrid performance car, LaFerrari. The first images was first unveiled on the July 5th, but the book has already closed after Ferrari did a special client preview. The al fresco LaFerrari is all sold. Well, what can we say? That's one of the perks of being obnoxiously rich, isn't it? Not just the bad guys get all the good stuff in the movies, but richie rich in real world gets all the good stuff too.
The open top LaFerrari, which is set to hit up the show floor of Paris International Motor Show aka Mondial Automobile in October 2016, is a limited edition special series featuring a removable carbon fiber hard top (which makes it a roadster) and a removable soft top. Apart from the chopped top, it shares pretty the same specifications, including the same torsional rigidity (reportedly, achieved after much modifications) and beam stiffness, drag coefficient in open configuration (now, that's impressive), and of course, the lusty 788 hp V12 engine that works in sync with a 120 kW electric motor that offers a combine output of 949 horses. Performance figures weren't offered, but I guess we do not need to question the LaFerrari's performance, drop top or not.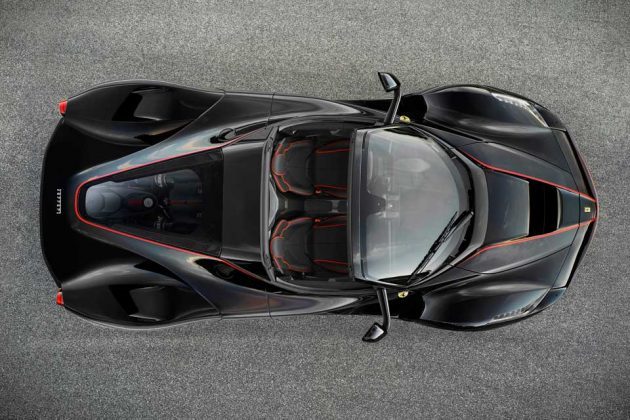 All images courtesy of Ferrari.