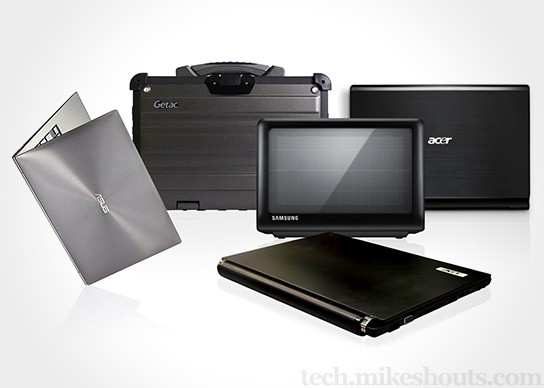 laptops are a dime of a dozen and with new models being introduced every few weeks, we are certainly not lacking of options. seriously, i wouldn't bother too much with the hard specifications, cos' basically they are 'almost the same'. the only thing that sets them apart is probably the brand, or some say design but what design to talk about when they look almost the same? however, there exist a handful of laptops that stands out with either unique feature(s) or groundbreaking design, so here's our pick of the top five recent 'notable' announcements that has graced the tech world.
Acer Aspire Ethos Laptop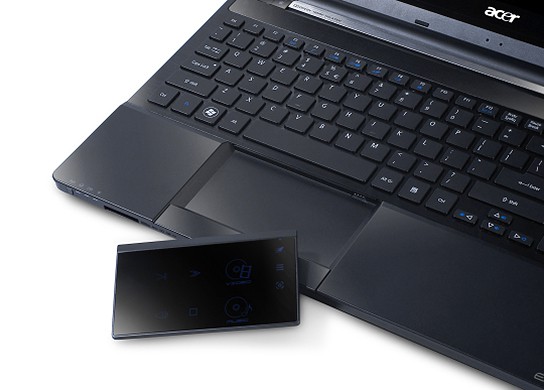 Acer Aspire Ethos Laptop | from US$1,399.00 | www.acer.com
what's so special? the Ethos features a touchpad (some called it trackpad) that detaches to double as a wireless remote.
the Acer Aspire Ethos looks pretty plain jane if not for its wide multitouch trackpad's second duty as a media remote. the LED-backlit trackpad displays track information and lets user have basic control of the tracks, such as skipping through tracks and it is capable of both landscape and portrait orientations, thanks to the built-in accelerometer. touted as the "first-class multimedia center", the Ethos exists in two different versions, one sporting a 15.6-inch widescreen estate (5951G) while the other, 18.4-inch widescreen (8951G). both screen sizes has a resolution of 1920 x 1080.
buyer will have a choice of Intel Core i3 thru to Core i7 processors for the 15-inch model, and the 18-inch model gets a choice of Intel Core i3, i5 or i7 processors. processor aside, the specifications between the two are pretty much the same: support for up to 16GB of DDR3 memory, NVIDIA GT 555M or GT 540M and up to 750GB of HDD. buyer will also have a choice of Blu-ray drive, BluRay writer or DVD writer. in short, buyers will has some form of customization during their purchase, though not particularly extensive.
if you are a fan of mobile movie, you will be glad to know that the the 8951G comes with Acer CineSurround with five Dolby-tuned speakers, though the 5951G only sports a True 5.1 surround sound output. of course, the highlight is still the removable trackpad, which could either make or break the Ethos line. it looks like the Ethos just took Apple Remote concept to a notch up the scale but it begs the question, what if you loose the remote? on the pricing department, the Ethos laptops are not cheap either, prices start from $1,399 and runs up to $1,599.
read official press release HERE.
Getac X500 Ultra Rugged Laptop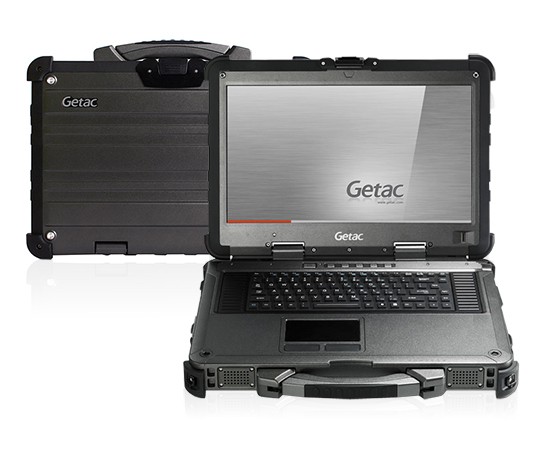 Getac X500 Ultra Rugged Laptop | from US$4,999.00 | www.getac.com
What's so special? the X500 is a tough as a nut laptop and it certainly looks its part of being a tough guy laptop
one look and you will know the Getac X500 is not your ordinary run-of-the-mill laptop. it is billed as an ultra-rugged laptop and with acronym-filled specifications like MIL-STD-461F, UL1604, IP65, and MIL-STD 810G, we won't argue that the X500 isn't a tough nut. the X500 is blessed with extreme durability, ultra fast speed and expandability that makes it suited for demanding requirements of battlefield use. the X500 features a multitouch 15.6-inch 1366 x 769 QuadraClear LED display that is viewable under the sun and the display is also pressure sensitive too.
under the hood, the X500 is equipped with an Intel i7-620M processor with a clock speed of 2.66 Ghz which can be boosted up to 3 Ghz with its Turbo Boost Technology. being a military-grade laptop doesn't mean that it has to be shy in other department. as such, it also features a NVIDIA GT330M graphics card, dual Gigabit LAN, a pair of RS232, four numbers of USB ports, and a high power WiFi that's capable of up to 1-kilometer range in outdoor. a fingerprint scanner, smartcard reader completes the hardware security department. it is also Computrace and Anti-Theft ready.
shock-mounted hard drive, sealed I/O caps and doors, waterproof backlit keyboard protects the laptop from damage and against the elements typical of a battlefield environment. apart from its size and weight, i don't know what's not to like about this laptop. that said, the X500 is primarily targeted at military customers but there's no stopping you from splurging between $4,999 to $6,599 for one these when it becomes available this July.
Samsung NC215S Netbook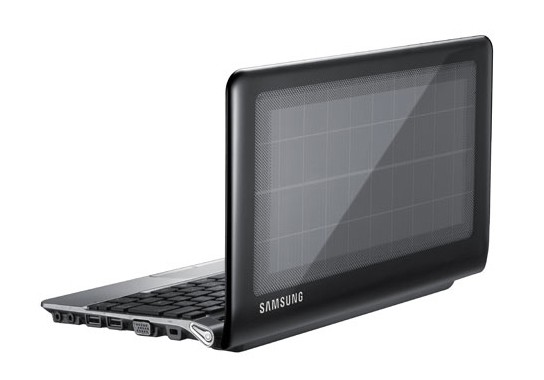 Samsung NC215S Netbook | US$399.00 | www.samsung.com
What's so special? the NC215S has a solar panel integrated into its cover. need i say more?
don't be fooled by the pretty grid design on the cover of the NC215S netbook, the 'pretty grid' is in fact solar cells that could give your laptop an additional hour of battery life for every two hours of sun-light charging. effectively giving you a whole day of work without plugging in, which no laptop can do at this moment – assuming you are putting yourself under the sun as well. apart from its solar panel integration, the NC215S is just another netbook. under the hood lies a dual core Intel ATOM N570 1.66 GHz processor and 1 GB of memory. it is equipped with a 10.1-inch 1024 x 600 LED backlit display that Samsung claims to be 50% brighter than your "average computer". combining the significantly brighter display with matte finish, makes the NC215S an ideal candidate for working under the sun. then again, i am not sure why would you want or need to do that.
the NC215S is not exactly new in the market but it is only now that it is heading to the US, which also means there is a high chance that it will be available globally. the Samsung NC215S has a MSRP of $399 when it hit the stores in US next month.
Acer TravelMate 8481 Laptop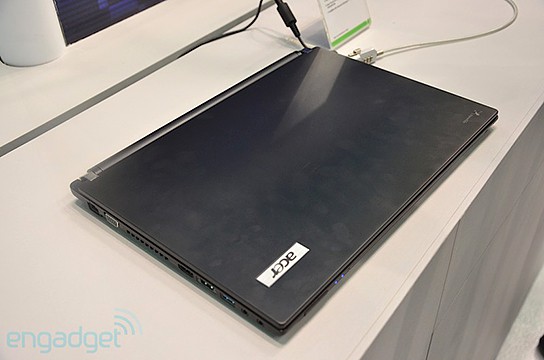 Acer TravelMate 8481 Laptop | US$tba | www.acer.com
What's so special? TravelMate 8481 business laptop sports an ultra-thin bezel and a wafer-thin display.
unveiled at last month's Computex Taipei 2011 is the coming soon Acer TravelMate business 8481 business laptop that features a display with ultra slim bezel along with a super thin display – 8-mm wide for the bezel and 4-mm thin for the thickness, to be exact. this amazing thin-feat is achieved with the use of the super-thin LG Shuriken display that has a 14.1-inches screen estate with a 1,366 x 768 resolution. the TravelMate 8481 will features Intel second-generation Sandy Bridge Core i7 processor, NVIDIA GT520M GPU and up to 320 GB of hard drive.
other features include USB 3.0 with power-off charging capability, fingerprint scanner, HDMI output and Bluetooth 3.0. the Acer TravelMate 8481 laptop is slated for worldwide availability this month, though no word on it's pricing as at today (the website has nothing on it too). it is already past the mid-June mark and we have yet to see or hear anything of this product. more images from Engadget after the break.
Asus UX21 Ultrabook

Asus UX21 Ultrabook | US$tba | www.asus.com
What's so special? the UX21 Ultrabook is piece of sleek gadget that measures just 17-mm at its thickness end.
the UX21 is touted to be the world's first Ultrabook. it's 11.6-inch model has sleek profile that measures just 3-mm to 17-mm (0.12 to 0.67-inch) and weighs in at just 1.1-kilograms (2.43-lbs). beyond its gorgeous appearance lies a market's first – a higher-speed SATA III Solid State Drive (SSD) integrated into the circuit board, other features include a glass trackpad, proprietary VGA port, USB 2.0 ports, micro HDMI output and a single USB 3.0 port. unveiled during last month's Computex Taipei 2011, CNET Asia managed to spend some time with this beautifully crafted gadget which has a polished silver chassis that's machined from a single piece of aluminum.
in fact, i thought the UX21 shares quite a few similarity with Apple's MacBook Air, such as unibody chassis design, ultra slim profile and built-in non-removable battery. unlike the concept unveiled by Intel, this will not sport the Thunderbolt technology. the UX21 is expected to be available around October, during which a 13.3-inch model will also be made available.