you already know G-Shock has Bluetooth-enabled watches that lets you get notifications of incoming calls and emails, synchronize the time with your iPhone and such. the Bluetooth variant G-Watches basically serves as a basic smartwatch of sort, but in a rugged package that we are all accustomed to. however, with the new G-SHOCK GBA-400, the Japanese watchmaker most notable for making calculators and super tough digital timepieces, has added a couple of music lover-friendly features that further takes advantage of its Bluetooth Smart connectivity. for starter, you can now control music playback on your smartphone right from the bezel and having the music title displayed on the tiny LCD display. though, we are not sure if this remote music control is limited to the music stored on your device or if will also work with apps like Pandora and Spotify.
music control is pretty cool, however, the real star is the newly developed music application, dubbed G'Mix app, which has SoundHound built into it so you can conveniently SoundHounded out the music from the comfort of your GBA-400 and have the information displayed on the watch's LCD display, which is actually pretty awesome, if you ask me (considering how often yours truly love to do that with Shazam on Nexus 5). if you want one, then you'd better be residing in Japan or start digging up your contacts over there to assist you in acquiring one when it is officially available there for 23,000 Japanese money (or about US$225). and oh, you will have a choice of colors too, obviously, which will include black x silver, black x gold, blue x silver, as well as red x silver.
UPDATE [September 25, 2014; 7:30AM PDT] The GBA-400 (now we know it is called the G-Mix Series) is available in Black and Gold (GBA400-1A9), Blue and Silver (GBA400-2A) and Red and Silver (GBA400-4A), and will retail for $200 this October through select department stores, fashion boutiques, key jewelers and the G-SHOCK NYC Soho store.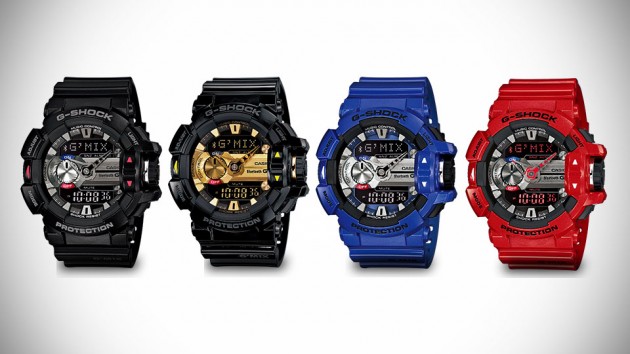 via Akihabara News