obviously, there is no shortage of solution when we need to take breathtaking 360-degree video, but this deceptively simple looking 360-degree camera, simply dubbed 360cam from French tech firm Giroptic, is destined to shake up the small, vibrant 360-degree photo- and videography segment. the product's Kickstarter campaign, which ended a couple of days ago, saw the product garnered nearly 4,000 backers and a total funding of over $1.4 million. that, my friend, is a clear signal that it is the product the market wants. best of all, unlike many products kickstarted via crowdfunding platform, backers won't have ridiculously long wait time to see the product at their doorstep. the 360cam is expected to ship later this year, or November 2014, to be more specific.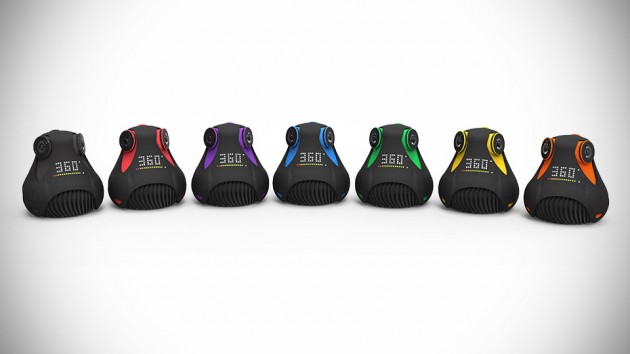 the 360cam sports a pear-shape design and is super small. it is equipped with three 185-degree fish-eye lenses to provide the industry's largest field of view. captured footages or images from each of the lens are synchronized and stitched together in real time within the device. the result is pretty much what you can expected from a 360-degree camera, but with a whole lot of details – thanks to its Full HD video recording (of up to 30 fps) capability. it can also churn out 8MP stills and offers a variety of photography mode, including time lapse, timer, burst and HDR. apart from stuffing the recorded data onto the microSD card, it is also capable of real time video streaming over WiFi. the built-in WiFi also allows control of the device with an iOS or Android smartphone, though you can also execute basic operations using the built-in buttons on the camera.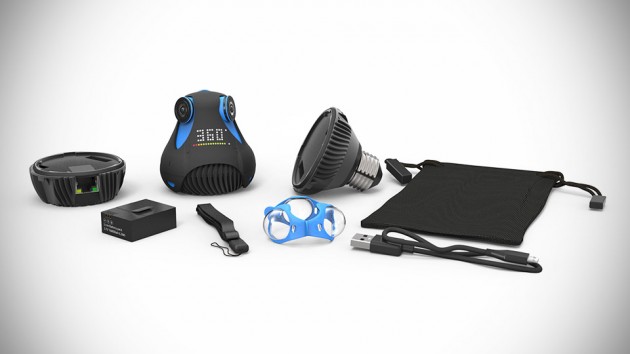 the camera also offers the versatility of mounting on to a variety of mounts. you could even mount on the roof of your car and do a la-Google Street View recording, if you want. the 360cam is also the first 360-degree cam to offer some interesting accessories from the get-go, including a cute little underwater lens cups for better underwater videoing (the device by itself is built to iPX8, btw), an Ethernet video streaming base for high-speed video streaming, and a light bulb adaptor that turns your home regular lighting connector into a 360-degree surveillance system – just replace the bulb with 360cam fitted with the said adaptor and it will work with your home wireless network to offer you real-time monitoring to your mobile devices, or through cloud video surveillance service. however, its uses are in no way limited by the list; the Giroptic invites both developers an users to continuing explore new ways of using it. if you missed the Kickstarter special, you can still pre-order the 360cam on its official website for $499 a pop.