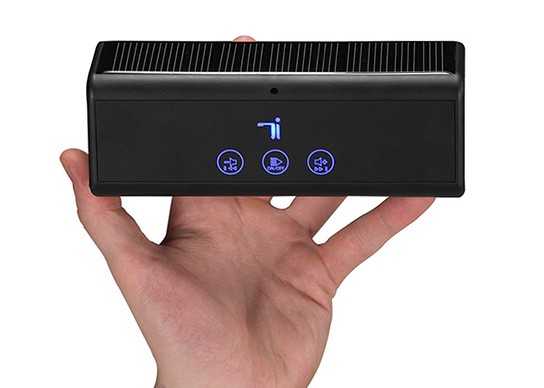 (image credit: Devotec) Devotec Solar Sound 2 | US$99.99 | devotecindustries.co.uk
Bluetooth speakers are common gadget today but one that's powered by Solar isn't something you see everyday. the second generation Solar Sound 2 from UK firm, Devotec, fuses the goodness of Bluetooth wireless streaming with solar technology. granted, this product was launched quite a while back but it is no doubt worth mentioning again, this time by yours truly. as with most Bluetooth speakers, this unit can churn out music streamed from your Bluetooth phone or media devices that supports A2DP and AVRCP profiles and it also allows hands-free communication with its built-in mic when paired with a Bluetooth-enabled phone.
in a simplistic design, the Solar Sound 2 presents itself as a little black box measuring just 165 x 55 x 55 mm and weighs in at 320 grams. upfront are the touch sensitive buttons to remotely control your music such as skipping of tracks and volume adjustment. of course, control can also be done via the media device itself. at the top of the unit is a large solar panel which charges the built-in 1600 mAh lithium-ion battery, while the pair of 2W stereo speakers is located at each end of the unit. at the back of the speakers is a 3.5mm audio jack which can be connected with the supplied retractable audio cable if Bluetooth is absent from the media device. along with the audio-in, you will also find an audio line-out, the mini USB port and the main power button at the back panel.
charging of the speakers via the solar panel takes a good 12-24 hours but thankfully, it does come with an AC/DC adapter and charging cable for charging via the wall outlet or USB, for a faster 4-hours charge time. Devotec has made a host of tweaks to this latest incarnation of the Bluetooth speakers which includes acoustically optimized bass-reflex speaker cabinet, large 40 mm drivers, use of silver coated oxygen-free copper cabling for speakers and gold plated connectors, among the many others.
on the looks department, the Solar Sound 2 may not look as avant-garde as the Jawbone or Native Union's item but at $99.99 a pop, it is certainly a less-expensive alternative and not to mention, it provides the added advantage of Solar charging which could save you from those out-of-juice situations during your outdoor trips. the Devotec Solar Sound 2 is available via Devotec web store.