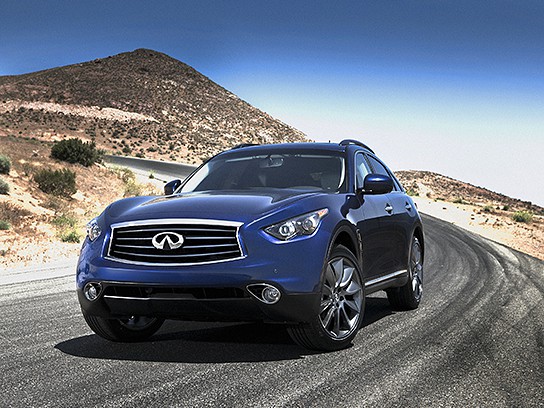 (credit: Nissan) 2012 Infiniti FX35 AWD Limited Edition | US$52,550.00 | www.InfinitiUSA.com
along with the announcement of the refreshed 2012 Infiniti FX performance luxury crossover yesterday, Infiniti also announced an FX35 AWD Limited Edition model. price from $51,500, the LE model features an exclusive Iridium Blue paint job, huge 21-inch 10-spoke graphite finish aluminum wheels, dark tinted headlights with Adaptive Front Light System (AFS) and auto leveling, and dark tinted side air vents and lower door trim.
[ad#Google Adsense-text-468×60]
the LE also comes equipped with aluminum roof rails and roof rail crossbars in graphite finish, aluminum pedals, and graphite floor mats with unique blue piping. other goodies that come standard with the LE model includes Infiniti Hard Drive Navigation System, Around View Monitor (AVM) and Intelligent All-Wheel Drive System. already drooling for one? then you better be quick to put down your money for one, cos' only 550 units of the Limited Edition models are planned for the US market. catch a few more look of this gorgeous SUV and the official press release after the break.
[toggle title_open="Hide Press Release" title_closed="Show Press Release" hide="yes" border="yes" style="default" excerpt_length="0″ read_more_text="Read More" read_less_text="Read Less" include_excerpt_html="no"]
08.03.2011 , FRANKLIN, Tenn.
2012 INFINITI FX LAUNCHES WITH AGGRESSIVE NEW FRONT END DESIGN, NEW LIMITED EDITION MODEL
– Infiniti Announces 2012 FX U.S. Pricing Prior to October On-Sale Date –
Infiniti today announced U.S. pricing for the refreshed 2012 Infiniti FX performance luxury crossover, which is scheduled to go on sale at Infiniti retailers nationwide beginning in early October. The iconic FX design has an aggressive new front grille and fascia for 2012 – featuring a heavy influence from the stunning Infiniti Essence Concept – as well as a new 20-inch wheel design and an updated instrument cluster.
Infiniti also announced that an FX35 Limited Edition will be available for 2012, featuring an exclusive Iridium Blue exterior color, unique 21-inch 10-spoke graphite- finish aluminum wheels with V-rated all-season tires, dark tinted headlights with Adaptive Front lighting System (AFS) and auto-leveling, and dark tinted side air vents and lower door trim. Other Limited Edition equipment includes aluminum roof rails and roof rail crossbars with graphite finish, aluminum pedals, and graphite floor mats with unique blue piping. The FX35 Limited Edition also features an Infiniti Hard Drive Navigation System, Around View® Monitor (AVM) and much more as standard equipment. Just 550 FX35 Limited Edition models, each with Infiniti's Intelligent All-Wheel Drive System, will be produced for the United States.
Pricing for the base FX35 and FX50 AWD increases slightly, while prices for the popularly equipped FX35 models remain unchanged. The popularly equipped FX50 AWD increases just $100 USD.
Manufacturer's Suggested Retail Prices (MSRP)* are:
Model Engine/Transmission MSRP
Infiniti FX35 RWD 3.5-liter V6 / 7-speed automatic $43,450 USD
Infiniti FX35 AWD 3.5-liter V6 / 7-speed automatic $44,900 USD
Infiniti FX35 AWD Limited Edition 3.5-liter V6 / 7-speed automatic $51,550 USD
Infiniti FX50 AWD 5.0-liter V8 / 7-speed automatic $59,350 USD
Every 2012 FX also comes with the new, complimentary Infiniti Personal Assistant benefit, which provides new Infiniti owners with unlimited 24-hour access to a live team of professional assistants. Accessible primarily through the owner's mobile phone, callers can ask for answers or assistance on a range of topics and tasks, including directory assistance and driving directions, weather forecasts, dining suggestions and reservations, travel arrangements, emergency assistance and much more. Infiniti is the first luxury automobile brand to offer this type of service nationally in the United States. The Infiniti Personal Assistant benefit is offered at no cost for the first four years of Infiniti ownership.
About the 2012 Infiniti FX
Continuing as one of the most aggressive expressions of sport and utility prowling the streets today, the 2012 Infiniti FX is available with a choice of a 390-horsepower 5.0-liter 32-valve DOHC V8 engine with VVEL (Variable Valve Event & Lift) or with a 303-horsepower 3.5-liter 24-valve DOHC V6 engine. Both engines are paired with a standard 7-speed automatic transmission featuring Adaptive Shift Control (ASC). Solid magnesium paddle shifters are available on the FX50.
The 2012 Infiniti FX is also offered with Intelligent All-Wheel Drive (standard on FX50), double-wishbone front/multi-link rear suspension and large 4-wheel disc brakes, along with available Continuous Damping Control (CDC®), Rear Active Steer, and Intelligent Brake Assist.
Inside, the FX interior provides a warm, inviting environment, highlighted by a driver-oriented cockpit with intuitive controls, available sport seating and advanced audio, navigation and technology – ranging from a Bose? 11-speaker Premium Audio system to the Infiniti Intelligent Key, Intelligent Cruise Control (Full-Speed Range) and Around View® Monitor system.
The FX again offers an array of available advanced technology systems, including Distance Control Assist (DCA), Lane Departure Warning LDW) and Lane Departure Prevention (LDP), and Intelligent Brake Assist (IBA) with Forward Collision Warning (FCW).
The 2012 FX is offered in four models: FX50 AWD with 5.0-liter V8, FX35 AWD with 3.5-liter V6, FX35 RWD with 3.5-liter V6, and FX Limited Edition with 3.5-liter V6. Also offered is a range of special equipment packages, Premium Package, Deluxe Touring Package, Technology Package and Sport Package.
About Infiniti
Infiniti offers a full-line of luxury performance automobiles that inspire at every turn, including the G Coupe, Sedan and Convertible, M sedan, EX and FX crossovers, and the QX full-size SUV. More information about Infiniti and its Total Ownership Experience can be found at www.InfinitiUSA.com.[/toggle]
SOURCE: Infiniti