As much as we hate to admit, most of us are drown in gadgets. Speakers alone would have account for something. Consider this: you probably have a home entertainment system (a soundbar or multi-channel setup), a desktop speaker system, and a portable speaker for times when you needed portability. That's a lot of speakers to deal with and not to mention the hard-earned money you have to drop for each setup. An Amsterdam-based company believes they have a brilliant solution, a speaker system that will address all your home entertainment and music needs, and it is called Kien. While its product name doesn't say a lot about it, Kien is actually a modular, multi-room sound system that promise high-fidelity sound wherever you go.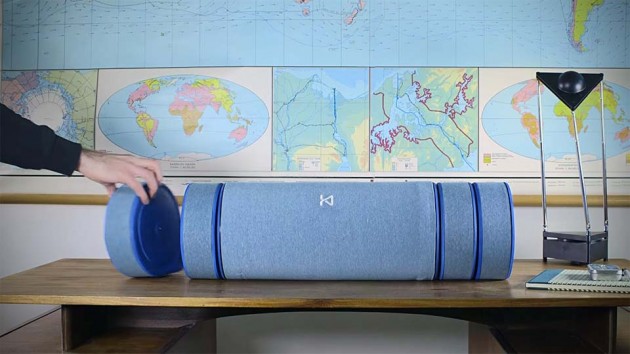 Part tear-drop, part cylindrical shape, this system consists of two major components: a sub and satellite speakers (called 'sat'). The sats are battery powered and recharges by sticking itself to either side of the cylindrical sub. When docked to the sub, a pair or more sats create a soundbar and when separated, it can form a multichannel system for watching movies. In this regard, it works much like Philips Fidelio sound bar, but Kien is both Bluetooth and WiFi-enabled, and Ethernet to boot (on the sub, that is). It does sound like the perfect system. The last speaker system that you will ever need as it provides the flexibility any clutter-hating gadget enthusiast could ask for. You can listen to your favorite lossless tunes on a soundbar, immerse yourself in a Dolby digital movie, and even get to bring its sat (or sats) out with you if so desire.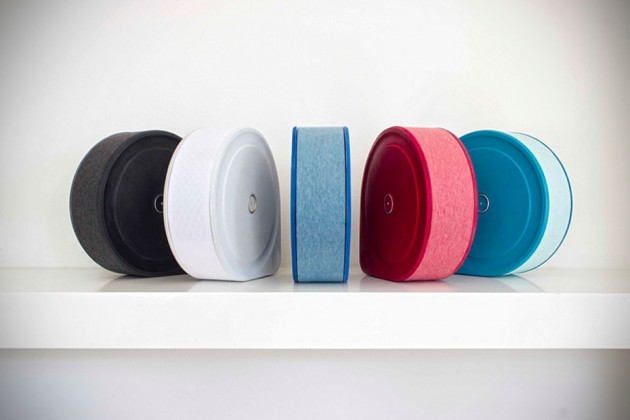 On top of that, it is a multi-room system too, providing two ways of listening to music: Dynamic Sweetspot and User Tracked Audio. With the former, audio is adjusted based on where you stand, while the latter has the music following you to rooms in which you have a Kien system. Kien does not have a dedicated streaming app; it will work with any music streaming app on three major platforms, namely Android, Apple and Windows, right out-of-the-box. Though so, it does have a Kien app if you want to further fine tune your Kien system setup. Technical-speak, the Class D amplified subwoofer pumps out 150 watts through two 6.5" drivers and the sat is also Class D amplified and sports dual 2" mids and an 1" tweeter, producing 30 watts. The sat also feature a built-in lithium-ion battery offering up to 12 hours of playback in between charges and the system supports NFC pairing, as well as wireless streaming via Bluetooth and over WiFi, supporting both AirPlay and DLNA.
Sounds like a dream, doesn't it? Well, apparently it is not. The Kien All-in-One Sound System is being crowdfunded on Indiegogo and it has since convince over 190 folks to drop nearly $60K in funding to take Kien to production. You can join the party (not literally though) by backing the campaign. A pledge of $129 will land yourself on an early bird Sat which will come with a power dock. If the limited early bird runs out, you are looking at $149 or $179. A 2.1 and 5.1 setup will set you back at $599 and $899, respectively. Or you can grab a sub for $299. There's a catch here though: delivery won't happen until March 2016. Keep going for an enchanting pitch video to learn more.
submitted via TIP US page.