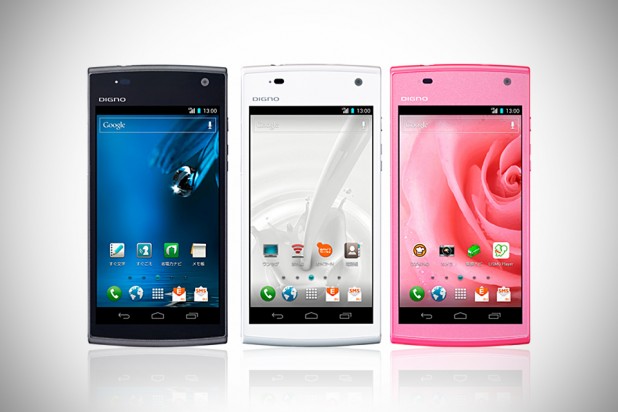 Kyocera DIGNO S LTE Smartphone | US$tba | www.kyocera.com
Kyocera is not usually a brand known for mobile phones outside of Japan. if you ask me, i'd say that i am more familiar with their photocopier machines than anything else. for the uninitiated, the Japanese firm have been making mobile phones for quite a while now and though unaware to us, the gai-jin, they are actually doing quite well. in fact, they have just announced a pretty interesting handset, dubbed as the Kyocera DIGNO S LTE Smartphone [JP]. the handset, powered by Android 4.0 Ice Cream Sandwich, is reportedly compatible with KDDI Corporation's recently launched high-speed 4G LTE network. taking the spotlight is a large capacity battery of 2,520 mAh that boast an impressive 1,110 minutes talk time, which translates to 18.5 hours of non-stop chattering and a rapid battery-charging feature with the use of a special charging dock that supplies 2.7x more current over the conventional charger. the result? it can amp up a flat out battery to 50 percent capacity in just half an hour, while 60 minutes of charging gets it up to 80 percent of the capacity. seriously, we think every smartphone should be this quick in charging as an out-of-the-box standard. don't they? another deal-sweetener is its WiFi hotspot feature that allows up to 10 devices to take advantage of the high-speed LTE connection of DIGNO S – a feature that could give devices like the MiFi a run for their money.
processor comes in the form of a Qualcomm Snapdragon 1.5GHz dual-core CPU with 1GB of RAM and 16GB is the amount of onboard storage offered, but expandable up to 64GB via the micro SD card slot. other features include a 4.7-inch HD TFT touchscreen display, a 8.08-megapixel CMOS shooter with Shake Reduction autofocus, a 1.2-megapixel front-facing camera, Kyocera's proprietary voice-activated functionality that operable directly from the lock screen to activate commonly used apps such as email and phone, and last but least, the Smart Sonic Receiver technology that makes listening in noisy environment a whole lot clearer by transmuting clear audio quality to the user's ear via vibrations in the display. of course, the handset also comes with the usual servings of Bluetooth 4.0 + EDR, WiFi, 3.5mm audio jack, MHL, as well as DLNA. oh, and it is rated IPX5 and IPX7 for protection against dust and water, respectively. judging from the limited images available to us, we'd say this is quite a decent looking phone and it will come in three colors: black, white and pink. unfortunately, as you might have already guessed, the Kyocera DIGNO S LTE Smartphone is unlikely to find its way to the U.S. shores, or rest of the world for that matter. it will available in Japan through KDDI Corporation but as to when, it remains unclear.