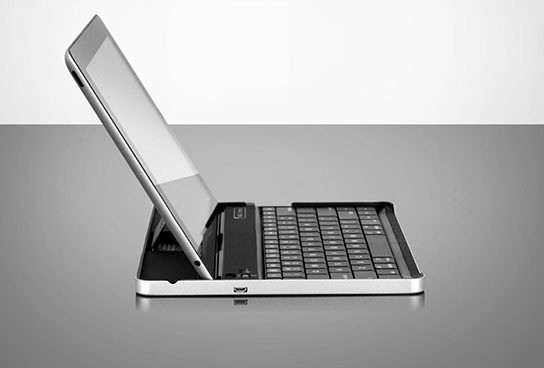 (credit: ZAGG/Logitech) Logitech Keyboard Case for iPad 2 | US$99.99 | www.zagg.com
after a year on with the original iPad, i still can't get use to typing on the onscreen keyboard. though the market isn't lacking of any external keyboard or even the keyboard-dock combo, i never gotten one due to the fact that i would have one more thing to lug around. good thing is, there's always the Logitech Keyboard Case (also known as the ZAGGmate) which has a keyboard integrated with a protective case.
the Logitech Keyboard Case is result of the new collaboration between Logitech and ZAGG. this case features the quality and durability of ZAGGmate with Logitech's experience in the field of computer peripherals which in this case, is the keyboard. check out more images of the product after the break. the case can be configured to prop up your iPad 2 in both landscape and portrait orientation as you desires.
[ad#Google Adsense-text-468×60]
the Logitech Keyboard Case is constructed from aircraft-grade aluminum that matches your shiny new iPad 2 and features an interior lined with high density padding to protect your precious one from the knocks and bumps that it may encounter. the built-in keyboard connects to the iPad via Bluetooth and has a built-in battery pack that charges over USB. the Logitech Keyboard Case for iPad 2 is set to retail for $99.99 and it is available via ZAGG online store.