Damn. We have unknowingly posted so many face masks over last month or so. Prior to this pandemic, nobody gave a single fuck about this breathing orifices-covering device, but now, everyone's onboard. Now, even LED fashion brand Lumen Couture by Oculus product design manager Chelsea Klukas.
With Lumen Couture in it, you know, face mask is going to get a lot more expressive. What you see here is the LED Matrix Face Mask. It can display message of your choosing. You can display texts or your display your own designs, or paired it via Bluetooth with your phone's microphone or music tracks for equalizer effects.
I particularly love the mic-pairing idea because, with a mask on, god knows who is talking at any given point. So if the mask can express that, it will be helpful.
LED Matrix Face Mask is composed of a dual-layer cotton and mesh material with LED Flex Panel and the electronics are removable for cleaning and sanitation. There's a rechargeable battery that powers it and it is good for 3-4 days per charge.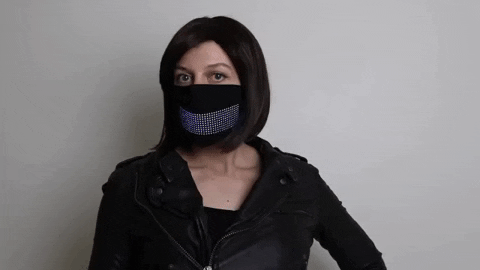 Obviously, this is a novelty thing. It may not protect you from the contagion. But again, a protection, regardless how efficient it is, is better than none at all. Noting that there is a LED Flex Panel in it, breathing may be a tad difficult for a prolong period of time.
The good thing is, you can use the mask without the electronics, but the thing is, at $90 a pop, you probably want the display because, that's what you have paid for. Yes, the price is ridiculous, but so is LED fashion.
Moreover, for every mask sold Chelsea Klukas will donate 60 percent of the profits to the WHO COVID-19 Response Fund.
If you are so inclined, you can pre-order the Lumen Couture LED Matrix Face Mask now. Lumen Couture hope to have it ship in early May, or maybe even sooner.
Images: Lumen Couture.
Source: Geekologie.